The best backpacking backpacks are the core of what we do here at Backpackers.com. These backpacks are primarily for wilderness backpackers, who spend one too many nights sleeping under the stars, miles away from civilization. They are built to carry 30-50+ pounds, hold your new-age lightweight gear and old-school heavy stuff, and provide ample comfort and durability to last for years of use.
This is a competitive category of gear. We break up the picks by their use and ideal backpacking trips. All of them are excellent and picking the right backpacking backpack for you should be about cost, weight, organization, and overall comfort. Get an overview in our Comparison Table below, dive into each individual pick, and then learn more about Backpacking Backpack Features.
Finally, we have similar guides to Ultralight Backpacking Backpacks and Day Packs for Hiking.
Backpacking Backpacks Comparison Table
Best Backpacking Backpacks
Price
Weight
Load Range
Pockets
Versions
Osprey Atmos/Ariel AG 65
$270.00
4 lbs 9 oz.
30-50 lbs
11
Atmos 50, Aura 50
Gregory Baltoro 65/Deva 65
$299.95
4 lbs 13.4 oz.
30-60 lbs
9
Baltoro 75, 85, 95 PRO
Deva 70, 80
Granite Gear Blaze 60
$269.95
3 lbs 1.6 oz.
30-50 lbs
3
N/A
Deuter Aircontact Lite 65+10
$220.00
4 lbs 6 oz.
30-50 lbs
4
ACT Lite 40 + 10, 50 + 10 ACT Lite 35 + 10 SL, 45 + 10 SL
Osprey Aether AG 70/Ariel AG 65
$310.00
5 lbs 4.3 oz.
35-60 lbs
5
Aether AG 60, 85, PRO 70 Ariel AG 55, 75, PRO 65
Mystery Ranch Glacier
$350.00
6 lbs. 6.4 oz.
40-70+ lbs
4
N/A
REI Traverse 70
$249.00
4 lbs 12 oz.
30-60 lbs
11
Traverse 35 Men's
Traverse 35 Women's
Kelty Coyote 85
$179.95
4 lbs 14 oz.
30-50+ lbs
7+
Coyote 105, 65 Coyote 60 Women's
Arc'teryx Bora AR 50
$499.00
4 lbs 12.9 oz.
60-70 lbs
6
Bora AR 63
Bora AR 61
LITHIC Expedition 65L Pack
$98.00
4 lbs 6.4 oz
30-45 lbs
6
LITHIC 50L Pack
LITHIC 40L Pack
The Best All Around Backpacking Backpack
Osprey Atmos AG 65 + Ariel 65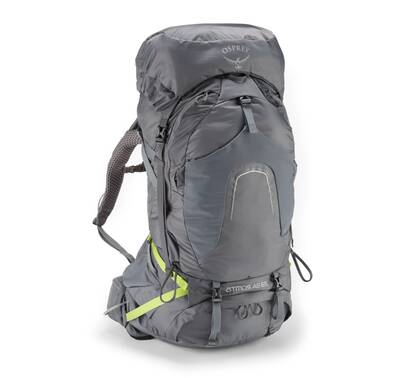 The Osprey Atmos AG 65 is, and has been for a few years, the backpacking pack by which most are judged against. Osprey is a master of comfortable carry and thoughtful design, and this is best exemplified in the Atmos and Aura AG line. AG stands for Anti-Gravity, which is the unique mesh back paneling on this pack. It snugs to your body to provide excellent carry and movement, yet has large holes for impressive breathability. That's coupled with thick foam shoulder straps for maximum comfort. The large stretch stuff pocket in the front, along with extra-deep external zippered pockets, allow you to store many items within easy reach. If you want a backpack that will last years and is impressively comfortable, the Atmos and Aura line is ideal — and it's not nearly as expensive as some of the models below.
Osprey Atmos 65 AG Star Rating
Comfort

Durability

Packability

Fit and Adjustability
Summary
The Osprey Atmos 65 AG backpacking pack is a standout in a crowded field. The Anti-Gravity suspension system hugs the back for incredible support, lots of venting to keep sweat off your body, and wraps into the hipbelt for a seamless feeling as you hike. There are well-thought out pockets inside and out, a stretchy mesh pocket for storing quick-access items, and a removable top lid.  It is durable, easy to figure out, and fits most people.
Read Full Review
See Men's Osprey Atmos AG 65
See Women's Osprey Aura AG 65
---
The Best Backpacking Backpack for Comfort and Organization
Gregory Baltoro 65 + Deva 60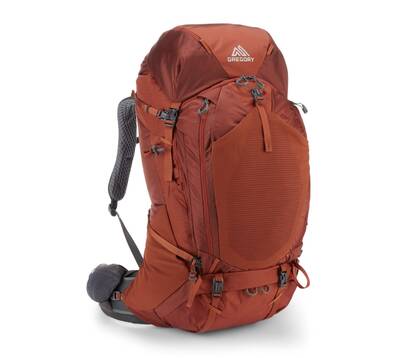 The Gregory Baltoro and Deva line of backpacks have been the big, beefy, do-it-all backpack for a decade. Gregory has an impressive harness that focuses on comfort above all else, and the Baltoro and Deva backpacks can carry 40+ loads with ease. The Response A4 Suspension does this by allowing the harness and hipbelt to rotate independently of one another, keeping your body upright while backpacking.
The most recent Baltoro 65 (and Deva 60) take that comfort and expand the pack's usefulness with ingenious design features. This includes full U-Zipper access to the pack, allowing you to access the interior contents like a duffel bag. The water bottle pockets are oversized and allow storage of poles alongside a bottle, and the stretch mesh pocket (albeit taken from Osprey's design) is very handy. Gregory includes a hydration bladder sleeve that converts to an ultralight day pack, which we love.
Gregory Baltoro 65 Star Rating
Comfort

Durability

Packability

Fit and Adjustability
Summary
The Gregory Baltoro 65 backpacking backpack is a beast. Full of ingenious organization, a robust hipbelt and harness that molds to you the more you wear it, burly materials that will last a lifetime, and an included hydration sleeve that acts as a daypack, it's hard to find a backpack that provides more. That said, it's quite heavy, so anyone concerned with weight should steer clear.
Read Full Review
See Men's Gregory Baltoro 65
See Women's Gregory Deva 60
---
The Best Lightweight Backpacking Backpack
Granite Gear Blaze 60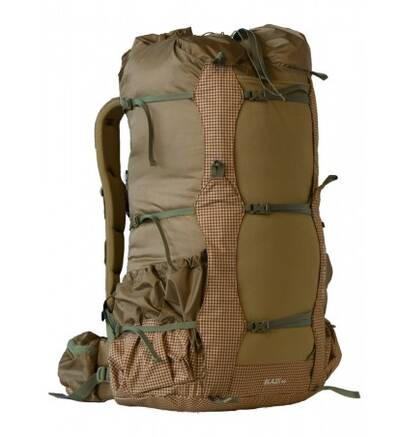 The Granite Gear Blaze 60 line of packs is built for the backpacker who wants to go lightweight, but not ultralight. At just over 3 pounds the Blaze 60 is the lightest backpack in this list, and you'll feel that when you wear it – rather than heavy-duty suspension and harness to haul big loads, it is light and nimble yet very comfortable, so long as you're not carrying more than 50 pounds (which is pushing it).
The Blaze has an adjustable torso size, adjustable Re-Fit hip belt, and molded foam back panel to provide your back with breathable, multi-day comfort. The fabric of the Blaze is unique – it uses 210D Robic nylon with UHMWPE triple ripstop, an extremely light, tough fabric. The lid is removable, and the pack has well-placed compression straps for tightening the load.
See Men's Granite Gear Blaze 60
See Women's Granite Gear Blaze 60
---
The Best Beginner Backpacking Backpack
Deuter Aircontact Lite 65+10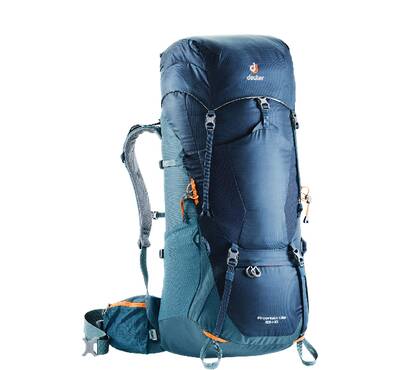 The Deuter Aircontact Lite 65+10 is a classic backpacking backpack. It has been around, in some form or another, for many years, and is one of the go-to packs that we recommend for people who are looking for an all-around performer at a more reasonable entry price. It is made with tough materials, the foam and suspension provide ample comfort for 40 pounds, and there are plenty of storage areas to pack and find your gear.
Deuter uses their Vari-Quick back length adjustment to fit a huge range of torso sizes (15-21 inches) with a single pack, and the back panel now uses 3D Air Mesh, which helps with breathability for your summer trips. Finally, the top lid can be removed and transformed into a day pack, which is a nice touch.
Backpackers.com Star Rating
Comfort

Durability

Packability

Fit and Adjustability
Summary
The Dueter ACT Lite 65+10 (now called the Deuter Aircontact Lite) is a solid, well-featured backpacking bag for beginners and experienced backpackers. It has tons of pockets and straps for easy-to-access storage, a comfortable and adjustability harness, and is made of thick materials to take a beating.
Read Full Review
See Men's Deuter Aircontact Lite 65+10
See Women's Deuter Aircontact Lite 60+10 SL
---
The Most Customizable Backpacking Backpack
Osprey Aether AG 70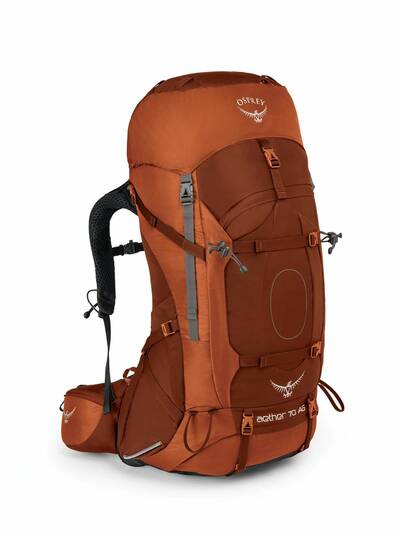 The Osprey Aether AG 70 and Ariel AG 65 are high-end, haul everything backpacks that helped to define modern wilderness carry. Osprey has maintained the Aether/Ariel lines for years and continues to update with new features, like the Anti-Gravity suspension (same as on the Atmos/Aura), which provides impressive support, a close fit, and surprising ventilation.
The Aether and Ariel really shine if you plan to haul more stuff, or if you're trekking internationally for weeks or months on end. The main feature that makes it stand apart from the crowd in general (and the Atmos/Aura in specific) is the hip belt, which can be removed and molded to your exact size, helping dial in the best load carry possible. This couples with an adjustable torso, two things the Atmos/Aura does not have.
Next is the fully functional Day Pack Top Lid, which coverts to a true day pack once you've reached basecamp. Most top lids on backpacks, even on this list, can be used as a day pack, but are not built to actually be a day pack. The Aether/Ariel and Baltoro/Deva are the only two that have actual packs built-in. Beyond that, the Aether/Ariel have an oversized front mesh stuff pocket, excellent water bottle pockets, and more compression straps than you might know what to do with. If you want an end-all pack with excellent support, versatility, and customization, the Aether and Ariel are worth looking at — that said, it's on the heavy side of things.
See Men's Osprey Aether AG 70
See Women's Osprey Aether AG 65
---
The Best Backpacking Backpack for Heavy Loads
Mystery Ranch Glacier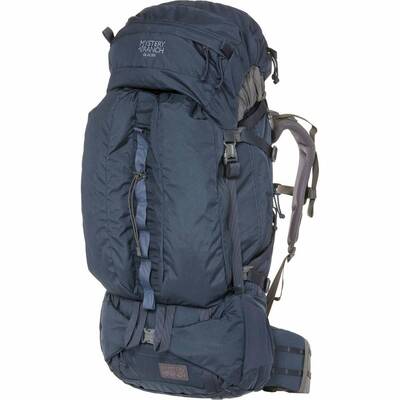 Mystery Ranch produces exceptionally burly backpacks for carrying heavy loads, and the Glacier lives up to the reputation. It's a heavy backpacking pack with every key feature built for solid, long-term use. The backpack is top-loading and has a large chute for stuffing all your gear. The bottom sleeping bag compartment uses the Speedzip design, which is a unique way to easily pack and access your bag (or whatever gear you store at the bottom of the bag). There are water bottle pockets, two vertical external zipper pockets for quick access, and a side zipper for main compartment access.
But really, this pack is about the Astral Frame and materials. It uses a rugged 550D Lite Plus Cordura nylon throughout, reducing the chance of ripping to almost nothing. The Astral Frame has four vertical stays and very dense foam for long-lasting comfort. You can adjust the torso length, and rest in the knowledge that this pack will carry heavy loads very well.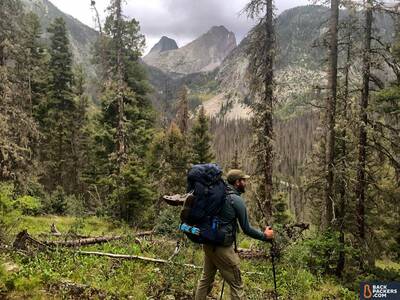 Mystery Ranch Glacier Star Rating
Comfort

Durability

Packability

Pockets

Fit and Adjustability
Summary
The Mystery Ranch Glacier loves to take extended trips through the wilderness, carry excessively heavy and bulky items, and is looking for a partner equally suited for such journeys. If you enjoy disappearing into the woods or mountains for long periods of time with no resupply, you should definitely "swipe right" on this impressive specimen of a backpack.
Read Full Review
See Men's Mystery Ranch Glacier
See Women's Mystery Ranch Glacier
---
The Best REI Backpacking Backpack
REI Traverse 60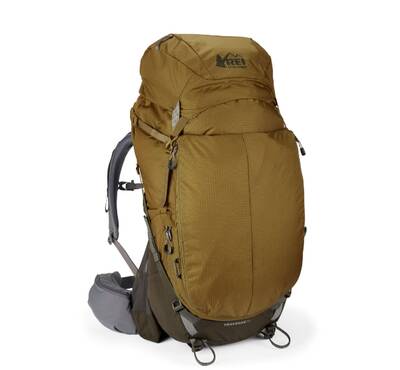 The REI Traverse backpacking pack has a few nifty features that make it stand tall in a crowded field. First is the UpLift compression system. You use tension straps throughout the backpack to pull the load upward and toward your center, further increasing stability for a smooth hike. The hipbelt also pivots independently from the backpack (like the Baltoro). It comes with a rain cover (most backpacks in this price range don't) and the top lid turns into a backpack.
The large, oversized front pockets are a nice touch, but the stretch mesh typically works better. While overall the comfort is good, the Traverse has slightly less robust materials than many packs on this list, yet still costs a fair chunk of change.
See Men's REI Traverse 60
See Women's REI Traverse 60
---
The Best Budget Oversized Backpacking Backpack
Kelty Coyote 85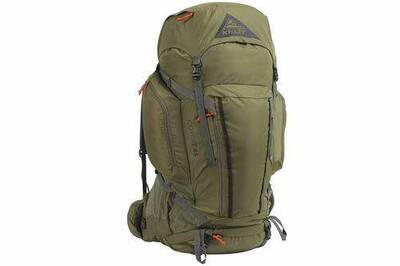 In the lineup of best backpacking packs, the Kelty Coyote 85 is beefy and affordable. It is built to be a load hauler and will work for extended backpacking trips or international travel. The new version has pass-through ports under the external side pockets for clever storage of long items (like trekking poles or tent poles), and the pockets themselves are excellent for storing quick-access items.
The Coyote 85 has everything you'd look for in a functional backpacking pack, including a ventilated adjustable torso, large hip belt pockets, a massive main chute, top lid, and external zippered pockets galore. It's not the lightest pack in this list by any means and doesn't have some of the finesse and ease of carry that other packs do, but if you need to haul stuff, it's a good choice.
Kelty Coyote 85 Star Rating
Comfort

Durability

Packability

Fit and Adjustability
Summary
The Kelty Coyote 85 draws on Kelty's legacy of functional packs with a simple design and plenty of features to meet the needs of most backpackers and big-load haulers on the trail. A comfortable carry, multiple storage options, and a wallet-friendly price make the Kelty Coyote 85 a strong contender for the value-oriented backpacker who needs a lot of pack for a little cash.
Read Full Review
See Men's Kelty Coyote 85
See Women's Kelty Coyote 60
---
The Most Durable Backpacking Backpack
Arc'teryx Bora AR 50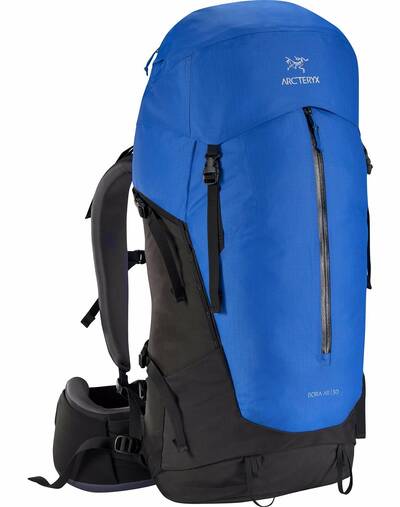 When it comes to outdoor gear, Arc'teryx is often known for the most impeccable design and the highest cost. This is true with the Bora AR line of backpacks, which are offered in 50/49 and 63/61 men's and women's versions. The cost is due to design and materials; the Bora AR is nearly weatherproof without a cover due to the 420D and 630D nylon fabrics that are coated with custom AC2 fabric, a specialty blend from Arc'teryx.
Next up is the patented RotoGlide hip belt, which literally rotates side to side and up and down while you walk. The other backpacks in this list offer hip belts that move independently of your hips, which is true — but the Bora AR backpacks have a fuller range of motion that keeps the pack's weight off you as you walk. Then there's the GridLock shoulder straps, allowing both torso and chest width adjustments, exceptional zippers, side pack access, and dense foam for long-term use. The Arc'teryx Bora AR backpacks are built for rugged alpine pursuits, and you'll love them if you can stomach the cost.
Arc'teryx Bora AR 50 Star Rating
Comfort

Durability

Packability

Fit and Adjustability
Summary
The Arc'teryx Bora AR 50 is a reimagined classic built for wet weather and hard, heavy backpacking treks. It has a highly advanced Roto Glide hip belt, which allows the pack to move side to side and up and down, keeping the weight centered and even. The GridLock shoulder strap allows you to widen, narrow, or change the height of the shoulder straps, getting a custom fit every time.
With bomber materials, a handy kangaroo zippered exterior pocket, and quality water bottle pockets, the Bora AR 50 is built like a tank.
Read Full Review
See Men's Arc'teryx Bora AR 50
See Women's Arc'teryx Bora AR 49
---
The Best Backpacking Backpack for under $100
LITHIC Expedition 65L Pack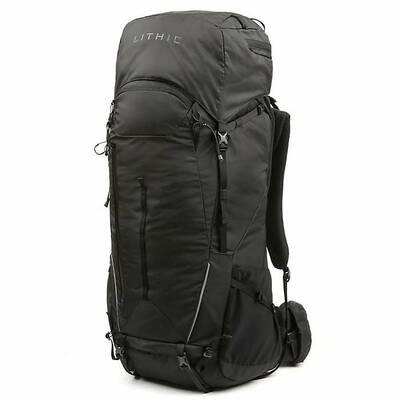 LITHIC, a brand collaboration between Moosejaw and Wal-Mart, is all about dirt-cheap gear that works well. The Expedition 65L Pack is the trekking backpack from LITHIC, and while it doesn't have many of the bells and whistles of the packs on this list, at $98 it is hundreds of dollars cheaper.
The LITHIC Expedition still has a large main chute for access, a zippered front pocket for quick-access items, two large water bottle pockets, a reasonable top lid, and a unique curving zipper down the main chute for looking at all your gear at once. The LITHIC Expedition doesn't have the load capacity or comfort of other packs here, but for those who want a sub-$100 pack to get into the wild, this is it.
Read Full Highlight
See LITHIC Expedition 65L Pack
---
Backpacking Backpack Features to Consider
There are an almost endless number of elements to consider when selecting a wilderness backpacking backpack. These can range from critical elements like the harness and hip belt system to something simple (and rather silly) like color.
Here are the backpacking backpack features you should consider when finding the right backpack for you.
Volume: How to Pick the Right Size Backpack
Getting the right size backpacking backpack for your adventures is important. Most backpacking backpacks fall between 50-90 liters, with 50 and 90 being outliers that most people won't use.
If you're a hardcore gear person that knows down to the cubic inch what kind of space you need, go for a smaller volume backpack with no expandable room.
Most people, though, operate under the concept that "more room won't hurt." That's true to a point. More room means a potentially heavier pack, which could actually hurt. But for those that want a backpack that can fit what they need, and then some, going up 10 liters in a backpacking backpack makes a lot of sense.
Here's a general rubric by which you can gauge backpacking backpack volume (capacity) and functionality.
50-60 Liters: This is on the small end of a backpacking backpack. At 50 liters you can carry the essentials for a few nights, but some of your gear will need to be quite light and small for you to carry it all and remain comfortable.
60-70 Liters: This is the classic range, and most backpacks on this list fall somewhere between 60 and 70 liters, with 65, in particular, being the sweet spot. You should be able to fit everything you need in a backpacking backpack this size, whether you're going out for a few nights or a couple of weeks. Keep in mind these backpacks have lots of external straps for storing extra gear, and typically have harnesses that can handle a solid load.
70-80 Liters: This volume range was more typical for backpacking backpacks in the late 90's when sleeping bags and pads were bigger. You can haul plenty with this much volume, which makes these backpacks ideal for those with oversized gear, extra-long hauls, or a mix of international travel and wilderness backpacking. Typically, these backpacks have excellent harnesses for load-bearing.
80+ Liters: Any backpacking backpack with more than 80 liters is downright oversized. As in, built for extended trips or guiding, in which you are carrying a heap of gear for a large group. They still have their place, though, and typically offer a high degree of comfort.
Backpack Hip Belt, Torso, and Harness Adjustability
Fit and adjustability are arguably the most important aspect when it comes to buying a backpacking backpack. These have to be dialed into your body, specifically, or your specific body is going to develop hot spots, sore spots, rashy spots, or some other inconvenience that doesn't end in "spots."
Sure, you can lug 50 pounds in the snow uphill both ways in a poorly fitted pack, but you won't feel good after.
Achieving the perfect backpack fit has to do with pack sizes (like clothing), torso length, hip belt sizing, and how your curves pop (or how they don't).
Prefabricated Backpacking Pack Sizes
You'll notice that most backpack manufacturers offer backpacking backpacks in different sizes. Some, like Osprey, dial it in with a Small, Medium, and Large. Others only offer two sizes, some a single size.
The key to this pack sizing is to know generally what size you are. Do you shop in the Small, Medium, or Large sections of a department store? Match that size to the pack size, because it's the best general way to tell. But don't stop there — following pack size alone is like getting a new TV and not adjusting the picture settings.
The real fit and customization are in the torso and hip belt.
Torso Fit
You'll find that many backpacking backpacks list torso length in their measurements and will further note if the torso length is adjustable.
The difference here is between a backpack that covers a general torso length range, like a Medium pack that works for torsos 18-21 inches, or a pack that can actually be adjusted to your specific length. This would slide up or down, rather than have preset lengths. Adjustable is always better if you're seeking a perfect fit.
If you need to know what your torso size is, refer to our iliac crest measuring guide. You'd be surprised how your overall height does not always match your torso size — which is one of the main reasons to never fully trust a manufacturer's predetermined backpacking backpack size.
Hip Belt Fit
Most backpacking backpacks these days have an adjustable hip belt with a wide range of fit. Unless you have a very narrow waist or a very wide one, you will probably be fine with the manufacturer's general specs.
That said, some backpacks have removable hip belts so you can swap the right size in, and some even have moldable hip belts to further dial in the fit.
You'll know if your hip belt fits when it is comfortable, tight, and distributes the weight of the backpack's load well. You want the top point of your hip bones, which are higher than you think they may be, to sit in the middle of the padded portion of the hip belt. This will ensure the weight is coming down properly.
You also want each padded portion of the hip belt to reach around your waist to the front of your abdomen. If they are too far back, you will feel uncomfortable with so much strap strangling your stomach. But if they come together closely near your belly button, it's also not good. You want them to be at least three inches apart, preferably a bit wider.
Backpack Weight – How Heavy is too Heavy?
Backpack weight can refer to a few things: the empty weight of the backpack, the weight capacity it can carry, and the weight you want to carry.
Empty Weight
The empty weight of the backpack will be posted on the spec sheet for every backpacking backpack, and we find a range from three pounds to six pounds to be ideal. Typically, the lighter the backpack, the less of a load it can carry. The heaviest backpacks on our list can carry large loads extremely well and are made of burlier material.
Weight Capacity
While we wish the weight capacity was listed on every backpack, it's not always there. We strive to test and list weight capacities in our reviews. Most backpacking backpacks are built to hold at least 30 pounds of weight, and many can go up to 50 pounds comfortably. Once you get above 50 pounds you'll need a heavier backpack with a more supportive harness.
We recommend always testing the weight limit of a backpack before hitting the trail. This is especially true with slimmed-down backpacking backpacks, as their harness systems can get much less comfortable if pushed above the limit. You'll notice you have too much weight in the backpack if your shoulders are burning (the weight should be on your hips), or if the backpack feels off-center and saggy.
The weight you want to carry
There are two major schools of thought when it comes to how much weight you want to carry:
Be very specific: Know the exact empty weight of your pack, the weight of each item you're taking, how much all of it together weighs, then how much the water and food weigh for the length of your trip.
Wing it: Bring the stuff you feel you need and have no idea what the end weight is. If you hoist it up and it's too heavy, you drink some water or take something out. If it's light, throw some more whisky in there (or another heavy object.)
Both trains of thought are valid. It's a good idea to know generally how much weight you are capable of carrying, but it's more important to know the range of weight your backpack can carry.
Full List of Backpacking Backpack Features
Many times there's a long list of features for modern backpacks listed in a spec sheet — some are obvious, others never really explained. Here's a glossary of popular features used today for backpacking backpacks. Please write to us in the comments if you'd like more terms added!
Internal Frame: As opposed to an external frame, this is the style of pack. Packs with support on the inside are internal, packs with support bars on the outside are external.
Hydration Sleeve: CamelBak started the wave of hydration via tube-sucking, and now most packs have a sleeve inside the pack (or a separate outer sleeve) to place a hydration bladder. This also implies a hole for the tube so you can drink hands-free.
Trampoline Suspension: Some companies use trampoline suspension on the back panel. This is excellent for ventilation and even weight distribution. Depending on the pack it can suffer at higher weights.
Load Lifters: These straps are essential to a backpacking backpack as they pull the pack closer to your back, adjusting the comfort and carry ability while you hike.
Brain/Floating Top Lid: A top compartment to hold easily accessible basic items. Detaches on some backpacks for reduced load and customization. Also closes the pack to sandwich bulky items outside of the confines of the backpack.
Convertible Day Pack: Some backpacks now have a convertible day pack included, often in the brain/floating lid. This makes day hikes a breeze without bringing a whole separate backpack.
Hip Belt Pockets: Everyone's favorite feature — small pockets for chapstick, energy bars, smartphones, or cameras that are built right into your hip belt.
Shoulder Strap Pockets: Not seen very often, a pocket on the front of your shoulder strap for carrying a water bottle or smartphone.
Adjustable Sternum Strap (with whistle): The sternum strap helps to balance the load and should sit roughly two inches below your collarbone. Most packs allow you to slide your sternum strap up and down, and some wilderness backpack versions have whistles attached for easy SOS or animal scaring tactics.
Waterproof Material: Recent use of cuben fiber (since renamed Dyneema) is an extremely weather resistant (and waterproof) fabric. You'll pay for it.
Sleeping Bag Compartment: Instead of one long chute, some packs have a divider and separate zipper at the bottom called a "sleeping bag compartment." You can put anything here that you want easy access to, not just a sleeping bag.
Ice Axe Loops: For the ice-loving trekkers, these are specific loops hanging off the backpack that make attachment very simple. Can attach other things here as well.
Trekking Pole Loops: Very similar to the above, and sometimes one and the same feature. Many hikers (long distance and day hikers) like to use trekking poles. Being able to store them on your pack is sweet.
Drawstring Closure: A method of closing your pack that involves tightening a drawstring that compresses everything down. Easy access, but not very weatherproof.
Rolltop Closure: A method of closing your pack that involves rolling up the remainder of fabric into a burrito-like shape, then snapping that closed with a buckle. This is pretty waterproof but can be annoying to get things out of.
How to Buy Backpacking Backpacks
The simple way to buy a backpacking backpack is to choose a pack from this list, click on the link, add to your cart, and get ready for your trip. If that suits you, by all means, go for it.
That said, there are a few considerations when looking to make a substantial purchase.
Online vs Real Stores
A backpacking backpack is best tried on. Each manufacturer has a different method of fit, and even individual backpacks within a manufacturer often have slight differences that can make a difference. Some backpacks will have more supportive, dense foam, while others have airy mesh holes for breathability.
Try before you buy is smart with a backpacking backpack, especially if you can get someone to load up the pack with 30 or 40 pounds and walk around. REI will do this, as will most big retailers.
At the very least, it is useful to know what size backpack you should buy, as most manufacturers make two or more variations.
Used vs. New
Backpacking backpacks are one of those categories that can have a long shelf life, and due to their adjustability and durability, you may find other methods than brand new for your purchase.
These days there are a fair amount of online used resources — like REI's Used Gear — to purchase old and lightly used backpacks.
That said if you want the best of the best, and you need an exact size and specific color, buying new is ideal. You also get access to the typical lifetime warranty when you buy new, which is worth quite a bit if something inadvertently breaks.
The New Age Backpack
We are in an unprecedented time: backpack materials are getting lighter, stronger, and more comfortable. Our entire list dedicated to ultralight backpacks proves this, but for your traditional backpacking packs we see tend to see the standard internal frame makeup with lots of support for hauling around 40 pounds, and between 60-70 liters (give or take). There are many features on most packs, including organization and modern comforts, but nothing is blowing us away, besides maybe a shoulder strap pocket for your smartphone.
For us, the next big update in backpacks seems to be style. The athletic, flashy backpacks (Osprey and Gregory-esque) are still reigning supreme, but newer brands are creating attractive, dare-we-say hipster backpacking packs. Even Osprey has joined in with their new Archeon line.
We still prefer the substance and support of the traditional backpacking backpack, but in a couple of years even these models will look a lot sexier.
Guides Related to Backpacking Backpacks
---
Backpackers.com Affiliate Policy: This guide contains affiliate links, which help fund our website. When you click on the links to purchase the gear we get a commission, and this goes a long way to creating guides, gear reviews, and other excellent content.