A day hike is a glorious thing: getting outside to stretch the legs, tackle a peak, or find that hidden waterfall is probably the most common "outdoor" experience, and nearly everyone can do it. The best piece of gear for a day hike (besides shoes and clothes!) is a day pack.
The best day packs for hiking come in a variety of sizes, have unique pocket configurations, and offer the exact right support for the exact kind of adventure you're seeking. Some people trek 13 miles into the wilderness for a day; others go on a two mile hike for a quick mid-day jaunt. Both need a day pack for hiking, but their requirements will be quite different.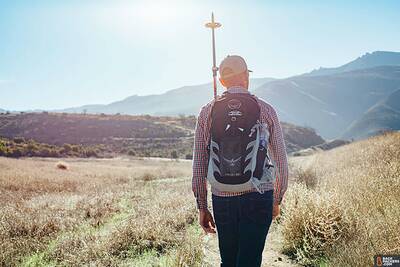 See our comprehensive list of the best day packs for hiking below, and find the pack that suits your trek!
The Top 10 Best Day Packs for Hiking
---
Top Hiking Packs
1. Osprey Talon 22: The Best Day Pack for Hiking All Terrain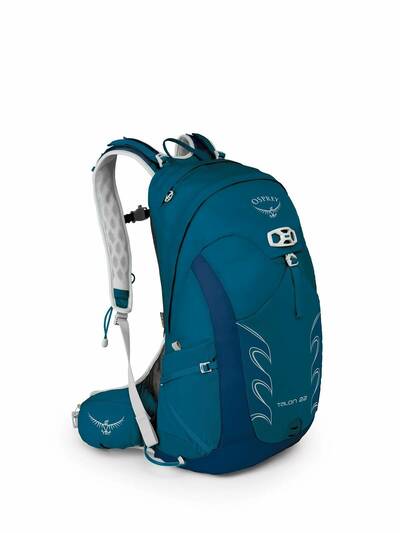 Weight: 1 lb 12 oz
22 liters
Cost: $110
Blending the capability and versatility of the other Osprey packs on our list, the Osprey Talon 22 is a popular day pack that bridges together the best of both worlds. Lighter than the Osprey Stratos, but with more pockets and carrying capacity than the Osprey Daylite Plus, the Osprey Talon 22 is a multi-sport day pack ideal for hiking, biking, and urban adventuring.
The Osprey Talon 22 is our favorite all-in-one men's day pack, and the Osprey Tempest is the equally-awesome women's variant. Designed to be lightweight yet unbelievably capable, this pack comes loaded with most of the same features as the Osprey Stratos, including hip belt pockets, a trekking pole attachment, and a large mesh front panel storage pocket. Additionally, a LidLock helmet attachment is a convenient add-on that's not found on many other day packs. There are S/M and M/L sizing options to help you find the perfect fit. Most people will find the Osprey Talon 22 to be the best day pack that works well across all of their active pursuits.
Osprey Talon 22 Star Rating
Comfort

Durability

Packability

Fit and Adjustability
Summary
Hit the trail with the Osprey Talon 22: it can do almost everything, and does everything it can do extremely well. Exterior mesh pockets, small-item organization, hydration capable, and super adjustable.
Read Full Review
See Men's Osprey Talon 22
See Women's Osprey Tempest 20
---
2. REI Flash 22: The Best Lightweight Day Pack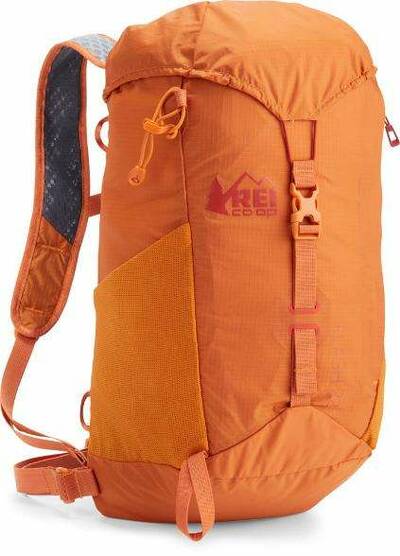 Weight: 13 oz
22 liters
Cost: $54.95
The REI Flash 22 is an ultralight day pack that is surprisingly strong in the field and gentle on your wallet. REI knows a thing or two about hiking gear, and they designed this pack as light as they could without compromising on-trail functionality. For what it's worth, this unisex day pack is fitted with several conveniences and comforts you won't even find on some high-end ultralight packs.
For instance, the REI Flash 22 has breathable mesh shoulder straps that fold over for extra padding around your neck and shoulders to prevent chafe. You'll find the mesh backing is padded with supportive foam as well, though this foam can be removed to make the pack even more ultralight and amazingly packable. The waist belt and sternum strap can be removed to save on weight as well. Throw in a couple of zippered pockets, a tool loop, and hydration sleeve and you've got a fully functional day hiking pack that weighs and costs less than most other day packs on the market.
REI Flash 22 Star Rating
Comfort

Durability

Packability

Fit and Adjustability
Summary
The REI Flash 22 packs serious features into a medium-sized day pack that excels in a multitude of scenarios. From cycling to hiking to farmers markets, the REI Flash 22 offers a stable carry and tons of pockets for all of your outdoor essentials.
Read Full Review
See REI Flash 22
---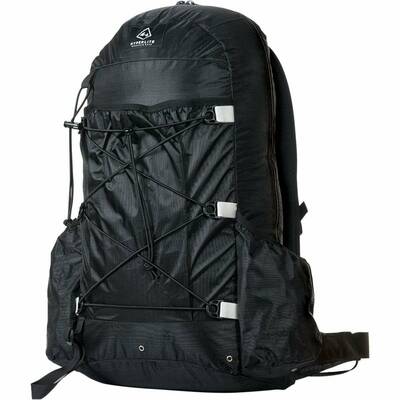 Weight: 1 lb 4 oz
17 liters
Cost: $230
The Hyperlight Mountain Gear Daybreak fuses the utility of a fully-featured day pack into an ultralight structure that is nearly as capable as the most robust day packs on our list, but at less than half the weight. The pack houses 6 pockets, 2 of which are internal, that will help you organize your gear, and a shock cord system that'll allow you to lash on additional gear to the exterior while compressing the interior contents of the pack.
This is one of the finest day packs you can find, though it'll cost you a pretty penny. The Hyperlight 4. Mountain Gear Daybreak is water resistant, which is great for those rainy excursions and occasional stream slip-ups, and the hip belt is removable for those light load trips. Ultralight gear often correlates with a tradeoff of some kind, usually durability or functionality, but the Hyperlight Mountain Gear Daybreak doesn't make those sacrifices. If you can afford the high price, this day pack is well worth the investment.
See Hyperlite Mountain Gear Daybreak
---
4. Osprey Stratos 24: The Best Fully Featured Day Pack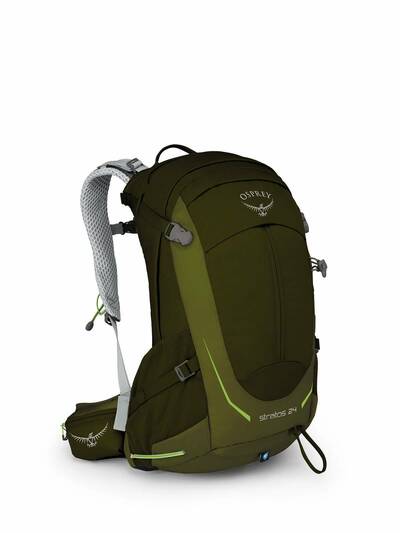 Weight: 2 lbs 12 oz
24 liters
Cost: $130
The Osprey Stratos 24 comes equipped with all of the necessary features for the long day hike. With a sizable 24-liter capacity and eight storage pockets, you will be able to carry everything you will ever need and keep it organized. In a pinch this day pack will be hearty enough to work as a lightweight overnight backpacking or fastpacking pack.
If the robust presence of the Osprey Stratos 24 doesn't convince you of its strength, the interior LightWire alloy frame will. This is the heaviest pack on our list, and the most capable. The Osprey Stratos 24 is a men's day pack equipped with useful hipbelt pockets, heavily padded shoulder straps, and an adjustable torso length. Women can find the same list of features in the equally capable Osprey Sirrus 24. Additional features such as the integrated rain cover and ice-tool loop go a long way to show that this pack means serious business. If you want a day pack that is ready to tackle any mountain adventure you can throw at it, look no further than the Osprey Stratos 24.
Osprey Stratos 24 Star Rating
Comfort

Durability

Packability

Fit and Adjustability
Summary
The Osprey Stratos 24 is a feature-filled backpack with robust suspension, well-placed pockets, and more carrying capacity than its 24-liter package lets on. While it works well for almost any scenario, it's not a hardcore expert at any one given situation.
Read Full Review
See Men's Osprey Stratos 24
See Women's Osprey Sirrus 24
---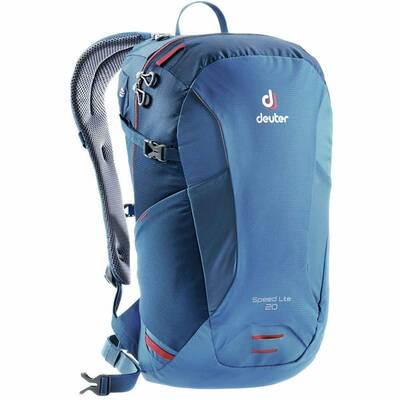 Weight: 1 lb 1 oz
20 liters
Cost: $75
The cushy comfort of the well-padded Deuter Speed Lite 20 belies its lightweight construction. Weighing in at a hair over a pound, this day pack stuffs in a lot of creature comforts into its tiny frame. Thick shoulder straps, full back padding, and durable 210 Denier Nylon fabric are unexpected bonuses that transform the Deuter Speed Lite 20 into a high-quality day pack.
Deuter company policy states that lightness must never come at the expense of durability. The Deuter Speed Lite 20 looks like a bulletproof backpack, and it behaves like one too (but don't take that literally). Besides its durability, this day pack is also very utilitarian by design. The side mesh pockets are adjacent to a large stretch pocket that is covered by the front panel, creating an exterior storage pocket that is protected by the thick nylon shell. 3M reflectors are placed at different locations along the pack, keeping you visible at night while bicycling backcountry roads, and accessory loops provide attachment points for hiking gear or a helmet holder. There's even an SOS instruction label printed onto the inside of the pack for emergencies!
Osprey Stratos 24 Star Rating
Comfort

Durability

Packability

Fit and Adjustability
Summary
The Osprey Stratos 24 is a feature-filled backpack with robust suspension, well-placed pockets, and more carrying capacity than its 24-liter package lets on. While it works well for almost any scenario, it's not a hardcore expert at any one given situation.
Read Full Review
See Deuter Speed Lite 20
---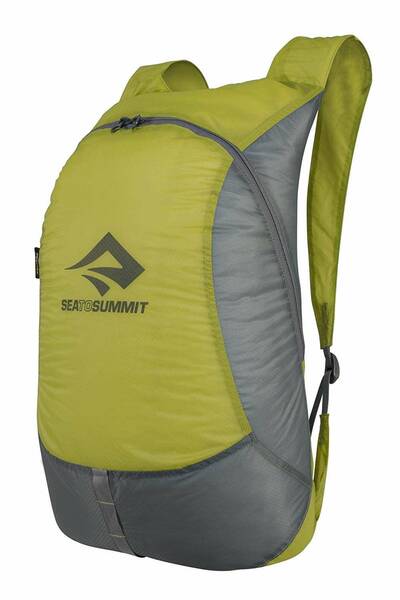 Weight: 2.5 oz
20 liters
Cost: $34.95
The Sea-to-Summit Ultra-Sil Day Pack is an ultralight icon in a small, basic day pack. It's the ultimate travel companion because it packs down to the size of a tennis ball and is fairly inexpensive. You pay for what you get, which is a relatively basic backpack that borders a shopping bag, but if lightweight mobility is what you need, this is the pack for you.
There is no hip belt, no hydration sleeve, and not a single pocket on the Sea-to-Summit Ultra-Sil Day Pack. This is minimalism at its finest. The moderately durable 30D Ultra-Sil fabric and Bartack reinforced stitching is quite capable for how light this pack is, but you won't want to carry heavy loads or rub the pack against sharp rocks. This day pack knows what it is meant to be, and doesn't try to be the heavy-duty backpack that it is not. You can pack down it down and store it wherever you need it to be, such as your larger backpacking pack, a glove compartment, purse, or duffel. You'll never notice its presence until you need it. Unfold all 20-liters of storage capacity at a whim and get on to your next adventure.
See Sea to Summit Ultra-Sil Day Pack
---
7. REI Trail 25: The Best Robust Day Pack on a Budget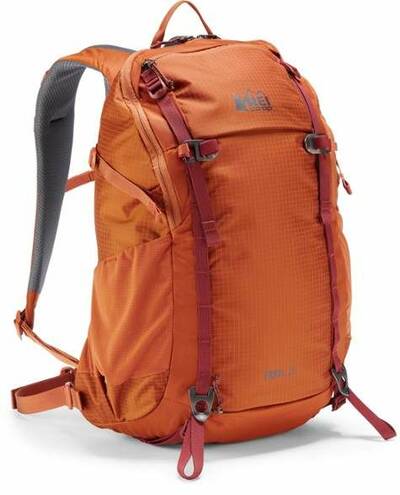 Weight: 2 lbs
25 liters
Cost: $79.95
A hearty day pack with all the trimmings, the REI Trail 25 is a stout backpack that prioritizes durability and organization above all else. The heft of this pack comes from the durable nylon fabric, thick padding, and an internal frame sheet, all of which work together to form a supportive structure your back will love.
The REI Trail 25 compares closely to the Osprey Stratos 24, but without hip belt pockets, though you can swap out the REI Trail 25's hip belt with an REI Trail 5 Waistpack for additional storage. The REI Trail 25 has 5 pockets, including a storage pocket for its integrated rain cover, and a 25L-liter main compartment accessed via a convenient U-shaped panel entrance. There are both men's and women's variants of the REI Trail 25 available.
REI Trail 25 Star Rating
Comfort

Durability

Packability

Fit and Adjustability
Summary
The REI Trail 25 day pack is a simple top-loader with ample storage for a full day on the trail. With exterior mesh water bottle pockets, lots of gear loops on the exterior, and a small-items pouch that's easily accessible, it's a very functional backpack. Rain cover included, too!
Read Full Review
See Women's REI Trail 25
See Men's REI Trail 25
---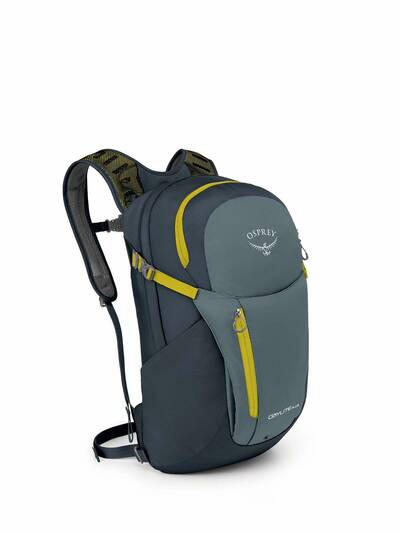 Weight: 1 lb 3 oz
20 liters
Cost: $65
The Osprey Daylite Plus is an uncomplicated day pack designed for versatility and comfort. Though similar in overall design to its Osprey and Talon counterparts, the Osprey Daylite Plus has been streamlined for simplicity, which also equates to a lighter overall weight and more affordable price.
Mesh shoulder straps with an integrated carry handle and the accompanying slim hip belt create a comfortable and practical carry system in a 20-liter package. Paired with a breathable mesh-covered back panel with a slotted foam cushion, the Osprey Daylite Plus does well to keep sweat at bay. This unisex day pack only comes in one size, but we think it's the perfect size for carefree day hikes and as an airport carry on. The possibilities are endless, especially because the Osprey Daylite Plus is also compatible as a day pack add on to a variety of larger Osprey backpacking and travel bags.
See Osprey Daylite Plus
---
9. Marmot Kompressor: The Best Budget Stuff Sack Pack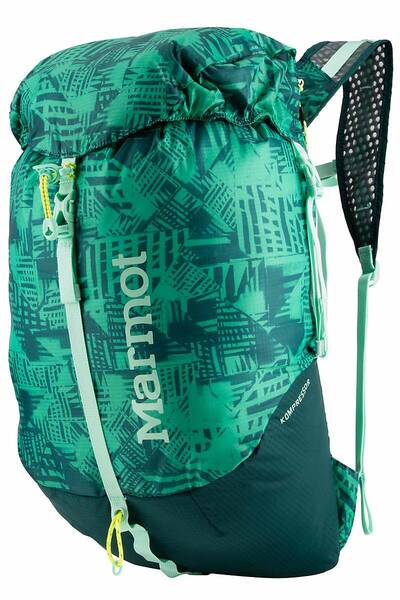 Weight: 10 oz
20 liters
Cost: $50
The Marmot Kompressor excels as a day pack on peak-bagging excursions. Able to pack down into its own zippered lid pocket, the Marmot Kompressor is a popular option for backpackers who prefer to bring an optional day pack along for their backcountry explorations. This extremely lightweight and packable day pack is the perfect secondary pack, but it can also be used quite well as a standalone day pack for basic adventures.
The relatively small 18-liter capacity may be a turn off for some, but its diminutive stature is essential to the design and mission of the Marmot Kompressor. This isn't a hefty load-bearing backpack. Instead, the Marmot Kompressor was built for high-speed and light load travel through the wilderness. Leave your big backpack at camp, and take only the necessities to the summit. That's not to say the Marmot Kompressor is bare bones– far from it. You'll still find adjustable shoulder straps, a tool loop, a zippered pocket, and a hydration port in this lightweight day pack.
See Marmot Kompressor
---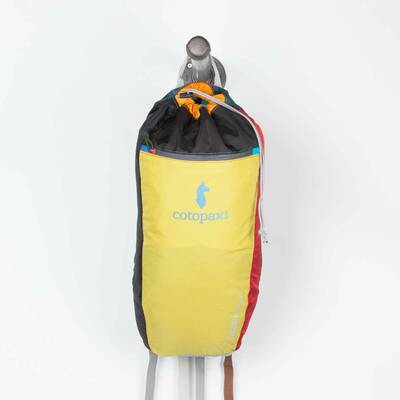 Weight: 11 oz
18 liters
Cost: $55
The Cotopaxi Luzon is perhaps the most fun day pack on our list. It's a versatile, artistic device for carrying your stuff. With nearly two dozen vibrant color combinations to choose from, it's easy to write-off this day pack as a heaping pile of form over function, but its capability might surprise you.
Lightweight and fairly inexpensive, the Cotopaxi Luzon is a competitive day pack for commuters and hikers. An internal hydration sleeve resides within the large, easily accessible, main compartment, and the exterior is comprised of a repurposed ripstop nylon fabric. Convinced yet? With features such as mesh shoulder straps, a slim hip belt, and a quick drawstring top enclosure– this may just be your ideal simple day pack. And it's made by a company that strives to create sustainable products and empower their employees. Plus, the pack can come in totally custom fabrics, making it one-of-a-kind, every time.
See Cotopaxi Luzon
---
Day Pack Comparison Table
Day Pack Features
Day packs offer a large array of features that make hiking fun, easy, and thoroughly customizable to your exact preferences. Our list of packs is meant to show you the variety of backpacks you can pick, and how they highlight different hiking styles. To make sure you choose a pack that has what you need, we list a number of critical features below.
Volume
The size of your day hiking backpack depends on distance, weather, time of year, how much you like to carry, and how many people you're carrying gear for.
The smallest pack we recommend for a day hike is 16 liters, and the largest is 28. This is a large range, but covers almost everything. You can technically go lower, but you'd be hard-pressed to find and fit everything comfortably, including water, a first aid kit, and a layer or two. Any pack larger than 28 liters is bordering on a small backpacking pack. While some people do prefer a very large, supportive pack, it's not for most.
Many of the packs we recommend are offered in smaller and larger size.
Pro Tip: Write a list of the items you'd typically take on a day pack, assemble them, and see how big the pile is. What size pack will it fit in?
Carrying Capacity
Carrying capacity is all about weight — how much can your day pack carry?
Typically we see packs that can handle about eight pounds on the low end, and 23 pounds on the highest end. That's a very large range. Much like Volume, you'll want a pack that fits your specific needs.
The most basic stuff sack packs — like the REI Flash 22 or Marmot Kompressor — cannot hold much weight without sagging greatly against your back. Get these if you only plan to stuff the basics in there.
Our more robust packs — like the Osprey Stratos 24 and REI Trail 25 — can hold upwards of 20 pounds, and can almost double as quick overnight backpacking packs.
Often the middle is a good sweet-spot for people: a pack that can hold 15 or so pounds comfortably, isn't too huge, and doesn't have an overly bulky frame. The Osprey Talon 22 and Deuter Speed Lite 20 fit well here.
Hip Belt
A hip belt is not required for day packs, but we've found it to be helpful. Even if the hip belt isn't a full belt with padding and pockets, it's important to be able to distribute the load, especially for longer hikes. They may seem corny, but the moment you have a couple liters of water, food for the day, emergency gear, and layers, you'll find it useful.
There are a few packs with hip belt pockets on this list — the Osprey Stratos 24 and Talon 22 . These are great for smartphone-happy photographers who want easy access.
Pro Tip: Find out if the hip belt is detachable. Some are built in, others can be swapped out or removed easily. The ones that are built in will always feel like a more rugged day pack.
Chest Strap
Also known as a sternum strap, this is a supportive strap that goes over your chest and pulls the pack forward on your body. All day packs for hiking should have this, and we find it to be a critical feature.
Water Storage
If there's one thing you'll need on a day hike, it's water. Always have a bit of water on you — it's a basic survival principle.
There are two main ways people store water — in a bottle, and with a hydration bladder. Either option works, and it's typically about drinking preference and what you already have on hand.
Many day packs today, and almost all the packs on this list, have either a water bottle pocket (or two), or a hydration bladder compartment. Water bottle pockets are usually on the outside of the pack, while the water bladder compartment is on the inside. The most robust packs have both, allowing you to carry lots of different water containers.
These packs don't come with hydration bladders –that would be the Hydration Pack category — but many of them take standard 2-3-liter sized bladders, and 32-ounce Nalgene sized bottles.
Pro Tip: A super smart hiker out for a full day will use a hydration bladder for regular water and easy access, and a water bottle for electrolyte-infused water.
Pockets
Pockets are a big feature on day packs (and any pack, really). How people organize their gear is definitely up to personal preference, and the packs on this list allow for two main styles of packing.
The first style is basic. It's basically a chute pack with one main stuff compartment. Packs like the REI Flash 22, Marmot Kompressor, Sea to Summit Ultra-Sil, and Cotopaxi Luzon all have a single main chute that everything goes in. While this is simple, it's also easy to lose stuff in the main chute. We also prefer these packs to have at least one exterior pocket for keys, a snack, and chapstick.
The second style is pocket-heavy. This could be through multiple zippered compartments, many exterior pockets, and included items like rain covers or loops for trekking poles. The Osprey Stratos 24, Talon 22, Daylite Plus, REI Trail 25, and Deuter Speed Lite 20 all have a decent amount of pockets.
The Hyperlite Moutain Gear Daybreak is an interesting hybrid pack, in that it's mostly a single chute, but has solid pockets and webbing on the outside.
Pockets to look for:
Hip belt pockets
Side mesh water bottle pockets
Exterior mesh shove-it pocket
Small zippered pocket for at-hand items (chapstick, bar, etc.)
Secondary zippered pocket with organization features for headlamps, notebook, etc.
How to Buy Day Packs for Hiking
Day packs are sold pretty much everywhere — your local gear shop, REI, online, and even in department stores like Macy's and Target. Most people have a small-ish backpack to take on a hike, urban walk, or to school, and many of these packs can double as a hiking pack.
Our list is more focused on dedicated hikers who want feature-rich day packs, or day packs that have purposely slimmed down for ease of use and lightweight treks.
Name Brand Over Generic Day Packs
We list a lot of classic outdoor brands in this guide, which are often more expensive than generic backpacks you can find. We do this for a couple reasons:
Name brands tend to have manufacturing processes that are better for the environment and use fair labor and wages.
They almost always offer limited lifetime warranties for backpacks, so if something breaks you can get it fixed for free.
These two things add up to the increased cost. If you're a dedicated hiker you'll also know that many of these packs are designed to be more comfortable, easily functionable, and versatile than a more basic backpack.
That said, if you only hike a few times a year, there's no problem with using whatever backpack you have.
The goal of any backpack is to carry what you need as you walk — if a pack carries what you need for a quick hike, use it.
A Note on Backpack Gender/Sex
For the day packs on this list, we provide both gender/sex versions if they are available. It's great that manufacturers are now creating specifically engineered packs for women, and going beyond a simple color change (and beyond pink!).
Unfortunately, the default is still to design for men. So packs that don't have a gender/sex assigned, or claim to be unisex, were almost always built for a male physique first. We have female testers who occasionally use male packs for our reviews, and they do still work well. In the end its more about your body and what's comfortable, but if you're looking for the ultimate fit, look for the gender/sex that fits your body type the best.
The main feature to look for in women's-specific day packs are an S-curved shoulder strap, higher sternum strap, and shorter torso length. This all helps women wear their packs more comfortably, most of the time.
Buying Day Packs Online vs Real Stores
With any backpack, our general advice is to try it on. This is the only way to assure you will find the pack, and size of pack, that fits you best. In stores like REI, you can often get an employee to load your pack with some weight and walk around to fully test it!
That said, if you know what you want, online is a perfect way to grab a day pack. You can often get better deals online, more color options, and in the case of the Cotopaxi Luzon Del Dia, a totally custom color combination!
Used Day Packs vs New Day Packs
If you're fine with a used backpack, there is nothing stopping you. Packs are on sale on Craigslist, Facebook Marketplace, GearTrade, and even REI's Used Gear section.
If you're going to buy used, look for a few specific things:
Do the zippers zip correctly? If they snag, pass.
Are the mesh pocket protectors frayed or ripped? Depending on the level of rip, pass.
Is anything spilled on the inside of the pack? This can be difficult to clean out.
If everything looks good, and it's the right size with the right feature set, go for it!
The Future of Day Packs
Day packs have been around forever. They are increasing in number, especially in their specific use case. We think they're going to get lighter with more storage options as the years go on, but overall there's not a ton of room for innovation, as this is one of the oldest gear categories.
They do look quite different year after year though!
---
Backpackers.com Affiliate Policy: This guide contains affiliate links, which help fund our website. When you click on the links to purchase the gear we get a commission, and this goes a long way to creating guides, gear reviews, and other excellent content.