Outdoor Research made its mark in 1980 as a mountaineer apparel accessory company, producing gaiters, gloves, and hats for the most extreme places on earth. It has since become a full-fledged apparel brand, but we find that its accessories, specifically Outdoor Research gloves, continue to lead the industry in protection and innovation.
That said, the brand has over 50 individual glove models to choose from, which is boggling for most customers. You can wade through the mass of gloves at Outdoor Research, or you can use our highly curated and selective list below.
We think the best Outdoor Research gloves are those that work for multiple environments and many people, and have highlighted our favorites below. Each glove works for a specific environment and Backpacker Type. Keep your hands toasty!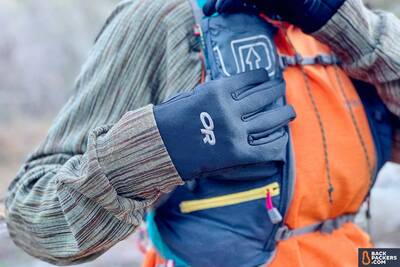 Outdoor Research Gloves Comparison Table
The Best Outdoor Research Mittens for Expeditions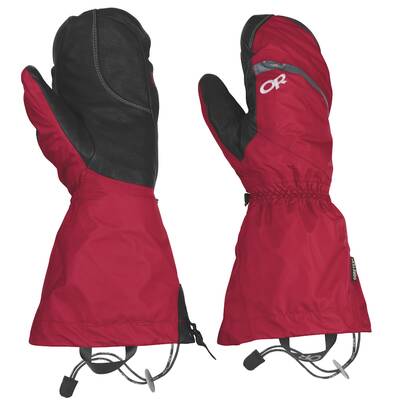 Outdoor Research Alti Mitts
Weight: 12.8 oz. (per glove)
Cost: $199
Best For: Car Camper, Mountaineer
The Outdoor Research Alti Mitts are the hand protection you take to the top of Everest. Built for true Arctic expeditions, these Mitts use a waterproof Gore-Tex shell that has a 2.5-layer membrane to fend off any weather you might encounter. The shell palms use Pittards Armotan leather, providing a supple yet firm grip when belaying. The shell is also built with 170 grams of PrimaLoft Gold Insulation, creating an incredibly warm layer for your hands. Then, inside the shell is a nylon liner, which uses 340 grams of the same insulation, providing even more warmth!
They are Mitts, so you don't have much use of your fingers, and they aren't known for nimble activity. But if you need the warmest, most protective gloves around, these are them. If you want a slight step down in terms of warmth and protection, but a major increase in movement, the Alti Gloves are also available.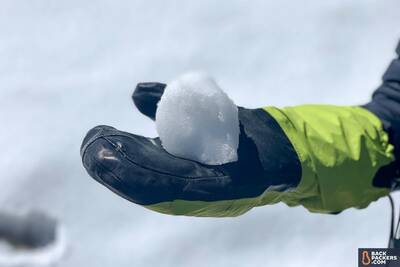 Outdoor Research Alti Mittens Star Ratings
Comfort

Durability

Warmth

Maneuverability
Summary
Whether you're headed to Everest or you just get cold hands in the winter, the Outdoor Research Alti Mitt is an amazing glove that any winter warrior would be lucky to have. Not only is it incredibly warm, it has proved tremendously durable, waterproof, and versatile.
You can use the outer shell with a lighter liner (not the one that's included) if you don't need the extra warmth, and the cuff gauntlet is sure to stop any trace of cold entering the mitt. Warmth is the main factor — you simply will not feel the cold with the Alti Mitt on.
These gloves should last a lifetime of expeditions, and excel at simply making snowballs!
See Women's Outdoor Research Alti Mitts
See Men's Outdoor Research Alti Mitts
---
The Best Outdoor Research Gloves for All Around Use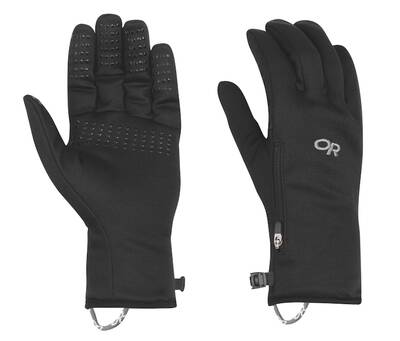 Outdoor Research Versaliner Gloves
The Outdoor Research Versaliner Gloves are, as the name implies, quite versatile. They provide a decent amount of warmth with both a shell and liner while still being quite lightweight at under 3 ounces per glove. The shell is a Pertex Shield membrane that has ripstop fabric, keeping your hands free of ice and water while also insulating a bit. The liners are made of 100-weight radiant fleece, a material that not only keeps you toasty but is crazy cozy to wear.
The unique aspect of the Versaliner is the zippered back-of-hand pocket that fits the shell fabric, so you can easily layer these gloves as needed and store the shell when it's not wet out. Finally, the Versaliner has tactile grip on the palm and fingertips, making use of your fingers. A high quality glove that will work in many conditions.
Outdoor Research VersaLiner Glove Star Rating
Comfort

Durability

Warmth

Maneuverability
Summary
The Outdoor Research Versaliner is a pretty solid pair of gloves when you need to save space or only want to bring one pair of gloves for your adventure. They're fleecy soft on the inside, offer light wind protection and surprise — hey have another pair of nylon windshell gloves zipped into the top! This makes them quite versatile (like the name), and you're able to stay quite dextrous in them. The little zip pocket could also be used for other things if you don't want to bring the ripstop nylon gloves along.
See Outdoor Research Versaliner Gloves
---
The Best Outdoor Research Gloves for Agility in Alpine Environments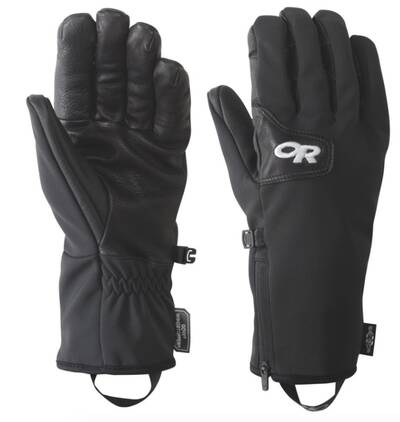 Outdoor Research StormTracker Sensor Gloves
The Outdoor Research StormTracker Sensor gloves are an impressively versatile glove that work well in alpine environments, like ice climbing and ski touring, while also being light and agile enough to use in a more casual context. They are just 4.4 ounces per glove, yet have a full Gore Windstopper soft shell and a goat-leather palm and fingers, keeping your hands warm and tactile.
This glove isn't a shell and liner combination, but technically has room for a liner if you wanted to increase the warmth. The StormTracker uses Outdoor Research's Sensor technology for touch-screen compatibility, and they have a zipper for a tight or loose fit. A high quality glove that will get you through most conditions.
See Women's Outdoor Research StormTracker Sensor Gloves
See Men's Outdoor Research StormTracker Sensor Gloves
---
The Best Outdoor Research Gloves for Expeditions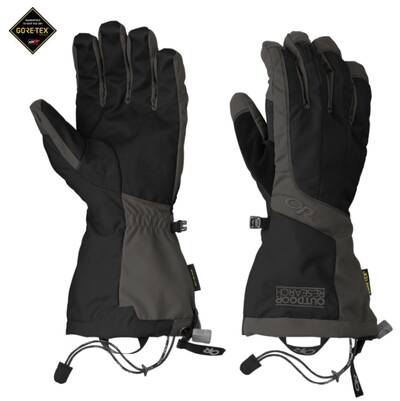 Outdoor Research Arete Gloves
Weight: 7.8 oz.
Cost: $98
Best For: Car Camper, Mountaineer
The Outdoor Research Arete Gloves are the go-to for most expedition and alpine mountaineers. They are a step below the Alti Mitts in terms of gnarly construction and protection, but are also less expensive while providing a lot of the same protection.
The Arete Gloves utilize a Gore-Tex oxford and dobby nylon shell for wind, water, and ice protection. The Palm uses Outdoor Research's AlpenGrip for secure hand-holds, and there's a 100-weight radiant fleece removable liner that has a bit of grip on the palm as well to be used separately if needed. These gloves are still large and heavy, so they're only meant for use in alpine environments or around base camp.
See Women's Outdoor Research Arete Gloves
See Men's Outdoor Research Arete Gloves
---
The Best Outdoor Research Gloves for Basic Warmth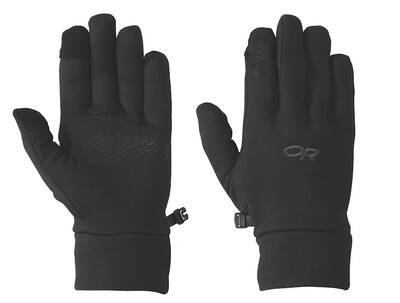 Outdoor Research PL Sensor 150
The Outdoor Research PL Sensor line of gloves is a classic liner series meant to keep your digits warm in cool weather. They are light and made of a healthy mix of nylon, polyester, and spandex for solid stretch and weather resistance.
The PL Sensor palms have a very light grip surface, and the thumb and index fingertrip are touch-screen compatible with the Sensor technology. Outdoor Research makes the PL Sensor line in a few difference fleece weights (which equals warmth), and we like the 150-weight the most. It provides decent warmth for a simple liner and is not overly bulky. If you want warmer or cooler gloves in a similar form factor, consider the Base, 100, or 400.
Outdoor Research PL Sensor 150 Star Rating
Comfort

Durability

Warmth

Maneuverability
Summary
The Outdoor Research PL Sensor 150 are wonderful midweight fleece liner gloves. They excel in almost any outdoor pursuit and feel soft next to your skin, whether you're trail running, paddling, hiking, or as morning camp gloves.
The PL Sensor 150 are a midweight fleece that actually provides a decent amount of warmth and weather protection. While there's technically no shell material, they're adequate against wind and water, drying quickly whether from sweat or rain. And they're slim enough to make an excellent layer underneath a heavier shell. Like all Outdoor Research products they are backed by the famed Infinite Guarantee, but seeing as they are made with such durable materials you should not have cause to utilize their warranty program.
Finally, the Sensor technology works wonderfully for using your smartphone. Nobody likes having to remove a glove and expose your hand to the cold just to grab a quick photo.
The only concern is fit. I had nearly half an inch of fabric at the end of the thumb, index, and middle finger. I wear a size medium in all OR gloves and they have all fit me perfectly, except for these ones. Try them on if possible!
See Women's Outdoor Research PL Sensor 150
See Men's Outdoor Research PL Sensor 150
---
The Best Outdoor Research Gloves for Camping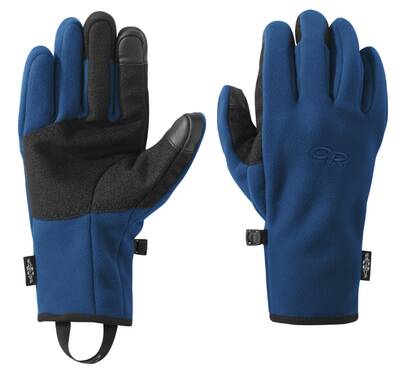 Outdoor Research Gripper Sensor Gloves
The Outdoor Research Gripper Sensor gloves are a classic, single, do-it-all glove. The key material is GORE Windstopper, which helps to block all wind and keep your hands warm. That's coupled with a 3L micro-fleece made of 100% polyester for solid warmth, and a grippy palm for true hold (thus the name). Finally, even with the bulk of the Windstopper material, the Gripper gloves have Sensor tech, so you can use a smartphone when wearing them.
These aren't the lightest gloves around, but they block wind, keep you warm, and allow you to move your hands quite well. If you want this style in a mitten, check out the new Gripper Convertible Gloves.
Outdoor Research Gripper Sensor Gloves Star Rating
Comfort

Durability

Warmth

Maneuverability
Summary
The Outdoor Research Gripper Gloves are burly and rugged do-it-all gloves that are a solid staple in any adventure kit. They're made with Gore Windstopper, which makes them semi-water resistant, yet breathable. These would make an excellent glove for setting up and breaking down camp or for any type of day trip you might have planned in the great outdoors!
See Women's Outdoor Research Gripper Convertible Gloves
See Men's Outdoor Research Gripper Convertible Gloves
---
Outdoor Research Glove Features
Outdoor Research has a huge number of gloves to choose from, but many of them use the same or similar technologies and features. We highlight and explain the most important below.
Outdoor Research Sensor Glove Technology
You'll see a number of Outdoor Research gloves (including a few on this list) include the term "Sensor" in their name. This is due to the Sensor Technology, which enables your gloves to work with a touch-screen.
The Sensor tech typically consists of a specialized fleece material on the thumb and index finger, the two areas that you use to touch your screen the most.
This technology works well, and allows you to handle GPS coordinates, pick new music, or send updates to friends without taking your gloves off.
Outdoor Research Shell Fabrics
Outdoor Research uses a number of different fabrics in their glove's shells — the exterior part of the glove.
The most common of these are:
Gore-Tex 2.5-layer waterproof membrane: This creates a nearly waterproof glove that breathes decently.
Gore-Tex Windstopper material: As the name implies, this material blocks wind and keeps your hands warm.
Pertex Shield fabric: Another, more breathable waterproof membrane, Pertex Shield is similar to Gore-Tex but lighter weight and less expensive.
Make sure the glove you choose has the shell fabric that works best for your use case. You'll want water protection if you use gloves in cold, wet, and snowy conditions. You'll want Windstopper material if there isn't much moisture around, but it's quite cold and windy.
Outdoor Research Glove Insulation
What Outdoor Research is most known for in the glove category is warmth. The Alti line, particularly, are touted as some of the warmest gloves on the planet.
The way they do this is to use premium synthetic insulation in their gloves — the same kind of insulation that's in a puffy.
While there are many variations of insulation used in Outdoor Research gloves, the most common are PrimaLoft Gold and Silver. This is premium insulation and is stuffed inside the gloves, and even sometimes the liners, like in the Alti Mitts.
Pro Tip: Look for the number of grams of insulation used in a glove to determine it's relative warmth. For instance, the Alti Mitts are extremely warm, and use 170 grams of primaLoft Gold in the shell, and 340 grams in the liner.
Outdoor Research Glove Fleece
When you think of a warm, cozy pair of gloves, you're really thinking about fleece. Just like a fleece jacket, this material is used to add a bit of insulation, shed water, and because it feels so darn soft.
Outdoor Research uses a wide range of fleece, but the most common named fleece is Radiant, which they offer in a number of "weights", which generally equates to thickness of material.
Outdoor Research Palm Material
The final major aspect of gloves, and specifically Outdoor Research gloves, is what the palm consists of. This is especially important for folks who use gloves to ice-climb, as you'll be wearing the gloves while handling ropes.
Outdoor Research uses a few materials for palms:
Pittards Amortan Leather: The highest-end leather used, this ages well and has great grip. Used in the Alti Mitts.
Goat Leather: Solid leather palm that is soft to the touch and grips well. Used in the StormTracker Sensor gloves.
AlpenGrip: This is a synthetic palm material that sheds water, blocks wind, and grips well. If you prefer synthetic over leather it's excellent, but won't match the suppleness of leather.
Silicon and Latex: These are used in various amounts for glove palms, and typically increase grip. Outdoor Research uses them on gloves with less rigorous profiles.
How to Buy Outdoor Research Gloves
We have selected what we believe to be the best Outdoor Research Gloves above. We made these decisions through research, testing, widespread appeal, and highlighting gloves that represent the best in their field for a variety of activities.
Of course, Outdoor Research has many more gloves than are the list above.
When looking to purchase, we recommend trying gloves on in store to get a sense of size and what material thickness and fabric-type feels right. Then understand the most common use-case for your gloves — are they for alpine expeditions or casual city use? What temperatures do you plan to use them? Do they need to block wind and water or simply keep you hands warm?
Then find the glove that fits, as they say. Purchasing directly from Outdoor Research assures the right size and color, but multiple online retailers sell these gloves.
Good luck, and keep those fingers toasty!
---
Backpackers.com Affiliate Policy: This guide contains affiliate links, which help fund our website. When you click on the links to purchase the gear we get a commission, and this goes a long way to creating guides, gear reviews, and other excellent content.