Bridging the gap between rain jackets and pack covers, rain ponchos leave no seam uncovered when it comes to foul weather. The best rain ponchos are the Swiss Army knives of precipitation protection. Keeping you and your gear dry from head to mid-thigh is reason enough to consider purchasing a poncho, and the fact that many can double as a shelter only sweetens the deal.
We've laid out the best rain ponchos below, and have highlighted the versatility of rain ponchos and how they differ from rain jackets. Find the best rain protection for your needs.
Quick Answer: What Are the Best Rain Ponchos?
Rain Ponchos vs. Rain Jackets
Quite simply, the primary difference between a rain poncho and a rain jacket is going to be the fit. Where rain jackets contour to your body as you would expect from any jacket, ponchos take a drape-it-over-everything approach to rain protection. The fit benefits hikers in many ways — to the degree that some of you may be surprised — and of course, there are some drawbacks.
Rain Poncho Pros
Rain ponchos tend to hang lower than your hips (which is where most jackets make their cutoff), and some cover down to your knees.
Body-length protection from rain
In most cases saves you from also needing rain pants.
Ponchos often provide better ventilation than jackets
The loose fit helps, as does zippered vents (under the arms or down the middle), which rain jackets sometimes have but not always.
Many poncho models also protect your entire backpack and can be converted into a shelter, providing versatility with which jackets simply cannot compete.
Rain Poncho Cons
Rain ponchos, when compared to jackets, are typically made from thinner, less durable materials, so keep an eye out for trailside thorns and twigs. This is due to the fast and light idea of a rain poncho, and because if it was made of thicker fabric it would be a much heavier item in your pack, given how much more fabric a poncho has than a jacket.
If you're into style — in any way shape or form — a poncho may cramp it. Jackets are form-fitting. Ponchos are not.
The 9 Best Rain Ponchos of 2021
The Best Backpacking Poncho: Cedar Tree Packa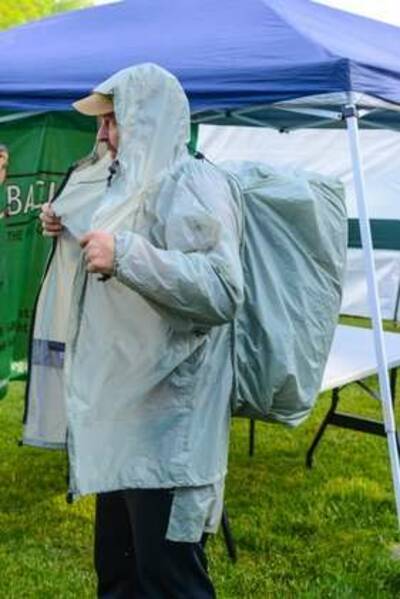 The Cedar Tree Packa is the most engineered poncho on this list and really aims to replace your rain jacket. The Packa is made to go over your pack, and then, without taking off anything, expand into a poncho that covers your arms, chest, and torso down to mid-thigh. This alone makes it over and above other ponchos, because the main issue with the poncho is how awkward it is to cover yourself AND your pack.
The Packa also has a full zippered front, sleeves that tighten, a fully adjustable hood, and huge pit zips. You can order in different colors and in a few material thicknesses. Note that a single individual makes, ships, and repairs the Packa, so don't expect a large organization when you get in touch.
See Cedar Tree Packa
---
The Most Breathable Rain Poncho and Shelter: Six Moon Designs Gatewood Cape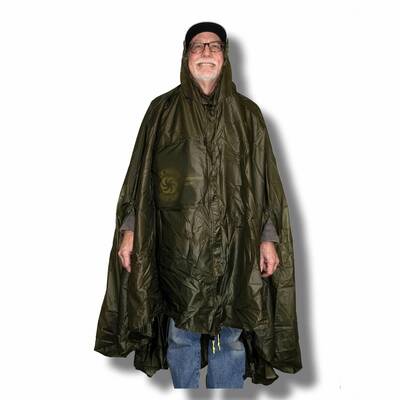 The Gatewood Cape by Six Moons Design is a very unique product. It's a rain poncho that doubles as a tarp tent. (You read that right!) It weighs just 10 ounces, has a hood for your head, and a large 360-degree coverage when worn as a poncho.
Then, when you get to camp, use your own trekking pole (not included) to set up a very simple shelter. The shelter has a zippered entrance, a floating canopy, an adjustable vestibule height for rain protection, and requires only six stakes. This poncho/tent is kind of ridiculous in its simple ingenuity, and it serves as an excellent emergency piece of kit. You do need to seam seal it, or pay for that, which increases the cost to $155.
Six Moon Designs Gatewood Cape Star Rating
Comfort

Durability

Breathability

Waterproofness

Fit
Summary
Replace your rain jacket, tent, and pack cover with the ultralight Six Moon Designs Gatewood Cape. Weighing 10 ounces and packing down to the size of an orange, this do-it-all rain poncho is like a rainy day Transformer.
Read Full Review
See Six Moon Designs Gatewood Cape
---
The Best Lightweight Rain Poncho: Zpacks Groundsheet Poncho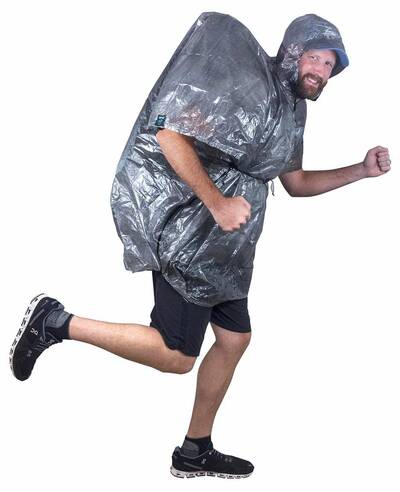 The Zpacks Groundsheet Poncho is another dual-purpose poncho. Unlike the Gatewood Cape, this poncho turns into a groundsheet for your tent, which can really equal one of two things: it can serve as extra protection for a tent that already has a bottom, or a bottom to a tarp tent, which normally doesn't have a bottom.
As a poncho it doesn't offer total coverage, stopping short at the mid-thigh, but does have a hood, zippers, and a cinch at the waist. It's made of DFC, which is super durable and naturally waterproof material, so it will help fend off rain from your core. You do need a small pack if you want it to fit over, so we suggest reading the sizing carefully. Overall a decent poncho, but pricey!
See Zpacks Groundsheet Poncho
---
The Best Travel Poncho: Sea to Summit Tarp Poncho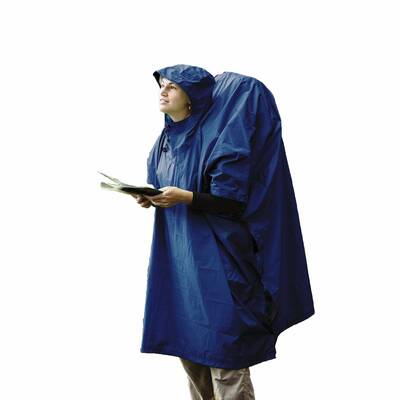 The Sea to Summit Tarp Poncho does what others do on this list: it covers your body from the rain in a poncho manner and also converts into a basic tarp shelter if you really need it to. It weighs about double what others do on this list, mostly due to the 70D nylon material, which is much thicker. This means it'll be more durable, which is good for most travelers and day hikers, but not as good for ultralight backpackers. It also accommodates a large backpack and is double stitched and tape sealed, another nod to high-quality design.
Sea to Summit also offers this model in a much lighter Ultra-Sil Nano version, but we prefer this one for general travel, as it's way more durable.
See Sea to Summit Tarp Poncho
---
The Best Budget Rain Poncho: Frogg Toggs Poncho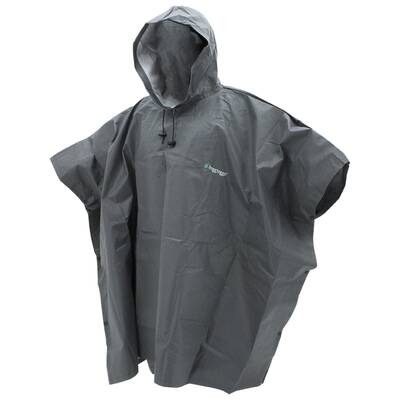 The Frog Toggs Poncho is popular for a specific reason: it's cheap. If you want a halfway decent poncho for about $16, don't look further than this. It doesn't do anything fancy, is not made of super durable or strong fabric, and doesn't transform into something awesome. But for 9 ounces you get a fully functional emergency poncho with hood, which has an adjustment.
It goes to about mid-thigh, is recyclable, and you can always grab another one if it rips (which it might do). The go-to budget poncho.
See Frogg Toggs Poncho
---
The Best Waterproof Poncho: Sierra Designs Poncho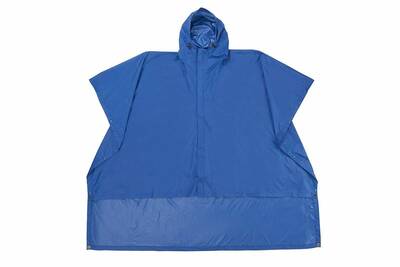 The Sierra Designs Poncho has all the functional elements of a solid poncho, making it perhaps the most fully waterproof on this list. A full zippered front with storm flaps gives it a rain jacket edge, and it has a lot of snaps to adjust the length, yet is quite oversized so you can get full coverage if needed.
The fabric is only 2-layer, so breathability is not its strong suit, but it is 80D polyester, which is quite durable and will keep rain fully out. That plus the adjustable 3-piece hood and waterproof taped seams make it an easy choice. And you can use it as a tarp with the grommeted corners!
See Sierra Designs Poncho
---
The Warmest Rain Poncho: Rumpl NanoLoft Puffy Poncho
The same super-cozy NanoLoft technology that Rumpl puts in its puffy blankets has been stuffed into this waterproof poncho. This ultra-insulating down-alternative insulation is perfect for foul weather as it continues to insulate even when it gets wet (unlike down) and dries fast. Being that the poncho is coated in DWR, though, you won't have to worry about any leaks.
What's more, this poncho features a fleece-lined snap pouch to keep your phone and other personal items protected, plus it has a hidden drink holder pocket. How neat! Best of all, this poncho packs down into a cozy pillow—so long as you keep it dry. When there's no rain in the forecast, this Puffy Poncho will work well as a camp Snuggie.
See Rumpl NanoLoft Puffy Poncho
---
The Best Heavy Duty Rain Poncho: Canada Goose Field Poncho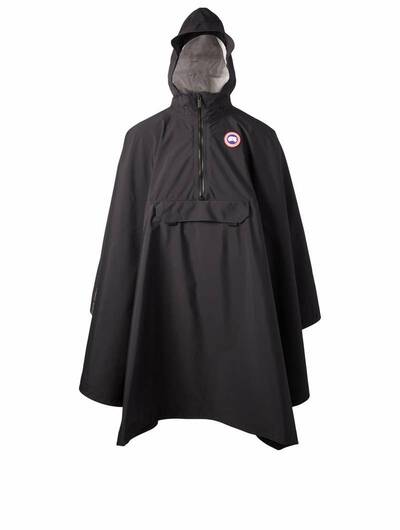 Weight: Not Listed (Est. 20 oz.)
Cost: $650
Best For: Urban Hiker
The Canada Goose Field Poncho is exorbitantly expensive, so while we really don't recommend it for most people, if you want the heavy-duty rain poncho that also stands as a serious fashion statement, it's hard to overlook.
Canada Goose uses a 3-layer custom fabric called TEI, which is lightweight yet keeps water out easily. With sealed seams, one zippered pocket, snap-adjustable sleeves, and a fully adjustable hood, this thing will keep water out. And there are three internal pockets for further organization. We realize this poncho works for a fairly small group of people, but believe it deserves a place on this list as both stylish and highly functional.
See Canada Goose Field Poncho
---
The Best Disposable Rain Poncho: Red Ledge Vinyl Poncho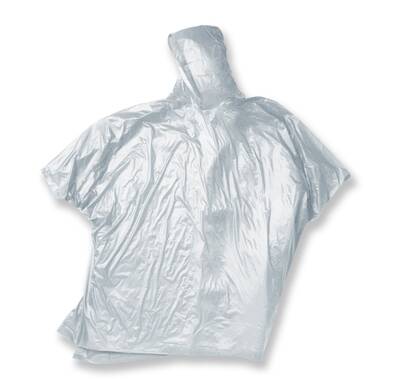 We don't particularly love the word "disposable", especially when it comes to a plastic product, but one can't deny the one-use nature of ponchos for many people.
The Red Ledge Vinyl Poncho is that one your parents probably have in a disaster kit somewhere. It's not fancy, it's made of PVC (a material that's not known for anything positive in clothing), and it has no bells and whistles. But it has a hood and covers your body, thereby protecting you from rain. It's very cheap, very basic, and we don't actually recommend disposing of it but keeping it around for emergencies. If it does rip you won't be hard-pressed to grab another one.
See Red Ledge Vinyl Poncho
---
Rain Poncho Comparison Table
How to Choose a Rain Poncho
There are several factors worth considering before purchasing a rain poncho. Most ponchos are sold as one-size-fits-all, but that doesn't mean they are all created equal.
For instance, let's assume that you've made it a habit to hike your neighborhood peak every Saturday morning. This is your favorite day hike for kicking off the weekend and you're going to do it, rain or shine. All you need is a basic poncho to keep the rain off your shoulders and your daypack. Simple and sleek — the Frogg Toggs Poncho will get the job done.
Now, if you're more the big-pack backpacker type, you're going to need a larger poncho with more functionality, perhaps something like The Packa or Sea to Summit Tarp Poncho. These are more durable, more flexible, and have more features, like zippers and vents.
Rain Poncho Size
Don't let the "one-size-fits-all" idea entice you. Just like different ponchos are tougher than others, you need to think about more than your body when choosing a rain poncho.
To choose the correct poncho size you'll need to know how big of a pack you're going to carry. Though purchasing the largest available rain poncho to cover all of your bases is an option, you'll end up looking (and feeling) like a deflated turtle on those hikes where you decide to leave your big pack at home.
On the flip side, you won't easily fit a 65-liter backpack under the Zpacks Groundsheet without tearing a hole through it. Know the type of rainy excursions you're going to want a poncho for and choose the size that best fits your needs.
Rain Poncho Zippers, Cords and Pockets
We all know that zippers and cords can make a world of difference in the feel and fit of your gear, and I'd argue that those adjustments are doubly important for rain gear. You're going to need to strap down your hood, cuffs, and hem tight when the weather gets foul.
Finally, don't forget to check for ventilation options! Any type of rain gear can lead to unwanted perspiration. There's nothing worse than a self-made poncho sauna that just gets you hot and wet with sweat instead of cold and wet with rain. Some models have pit zips while others rely on the main zipper for ventilation adjustment. The overall openness of ponchos is prone to let in more fresh air than a form-fitting rain jacket, but the sweatier of us will want to look for extra vents.
Pro Tip: Easy access to drinking water and snacks is vital to staying happy in wet weather! Make sure you can still access your pack's hip belt and water bottles, or choose a poncho that has big pockets.
Rain Ponchos that Convert to Shelters!
This is where the far-reaching rain protection of ponchos leaves jackets in the mud. Beyond protecting you and your backpack from bad weather while hiking, the higher-quality ponchos can be converted into shelters with the help of a few tent stakes and a trekking pole.
The Gatewood Cape and Sea to Summit Tarp ponchos provide 360-degree coverage when staked out as shelters, providing as much protection as would a separate camp tarp. Alternatively, if you prefer to carry a different shelter, the Zpacks Groundsheet Poncho does as its name implies and doubles as a groundsheet for your tent. These dual-purpose ponchos would fit right into an ultralight backpacker's dream gear list.
How to Buy Rain Ponchos
If you're looking to grab a poncho instead of a jacket, you've already chosen function over form. Ponchos offer excellent rain protection for you and your gear. All that's left to decide is where your needs fall on the spectrum of function.
We've already discussed pack coverage size and shelter versatility — these are your two most important considerations, so make sure you know what you need. After you've chosen the general style of poncho you want it's time to mull over more minor concerns like fabric durability and skirt length. We've already listed our favorite rain ponchos at the top of this article to make it easy for you.
Online Retails vs. Retail Stores
Good ponchos are hard to find in physical stores. You'll be hard-pressed to find anything better than Frogg Toggs at big-box supermarkets, and outdoor stores like REI have a limited selection. Rain ponchos haven't spiked in popularity yet. Jackets still rule the clothing racks.
Online is your best bet, especially if you're looking to support a small cottage company like Cedar Tree or Zpacks as they only sell through their own online shops.
The Future is Poncho
As gear companies push ultralight technology to its limits we're seeing an increase in multi-functional outdoor equipment. Modern rain ponchos are made from extremely lightweight materials. They're rain jackets, wind jackets, pack covers, shelters, sunscreen, and picnic blankets all in one.
Who knows what they'll transform into next. Poncho backpacks? Poncho sleeping bags? Poncho trail-runners? That last one might be stretching the imagination a bit, but the others are real possibilities.
For short day hikes, I still prefer a rain jacket, but once I strap on a backpack it's poncho or no go. What's your preference?
Related Content
---
Backpackers.com Affiliate Policy: This guide contains affiliate links, which help fund our website. When you click on the links to purchase the gear we get a commission, and this goes a long way to creating guides, gear reviews, and other excellent content.