Backpacking chairs are perhaps the ultimate backcountry luxury. You put small items into a large sack, carry it miles into the wilderness, set up a temporary home under the stars, and then, by some miracle, whip out a handy chair to take a seat by the campfire.
For those who prioritize comfort in the wilderness — let's be honest, it's a lot of us — a backpacking chair is a welcome piece of gear, as long as its lightweight, functional, and supportive.
The good news is that the best backpacking chairs are all of the above. The better news? Backpacking chairs have gotten lighter, more functional, and more diverse as the years have gone on. You can get a chair that works well in your sub-15-pound ultralight set up, one that gives you plenty of height and support, and one that functions well for front and backcountry use.
After in-depth research and testing, we list the best backpacking chairs below!
The Top 6 Best Backpacking Chairs
Backpacking Chair Comparison Table
The Best Ultralight Foldable Backpacking Chair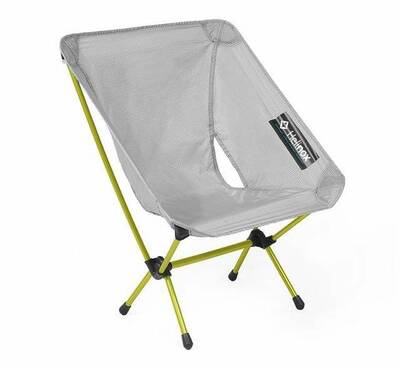 Helinox Chair Zero
The Helinox Chair Zero has a reputation of leading the pack in ultralight packable backpacking chairs. Weighing just one pound one ounce and packing down to the size of a long Nalgene, the Chair Zero lifts you about 11 inches off the ground and can support 265 pounds.
The Chair Zero lives up to its claim as an ultralight, fully capable backpacking seat, but it's also fairly narrow and quite low to the ground. Sitting is best done with your legs stretched out, which is comfortable but not for extremely long periods of time. The chair's back goes up to roughly 20 inches and provides a decent amount of support with a small backward lean. It's a bare-bones chair made of high-quality DAC collapsible aluminum poles, and the chair material is a patterned nylon ripstop that comes on and off easily. For the price, you get a full chair that packs down small, and the comfort packs a decent, albeit narrow, punch.
Helinox Chair Zero Star Rating
Comfort

Durability

Setup

Packability
Summary
The Helinox Chair Zero is an ultralight foldable backpacking chair that will keep you a solid 11 inches off the ground. Stretch out your legs, lean back, and let that campfire warm you in the backcountry, all for 17 ounces in a highly packable form factor.
Read Full Review
See the Helinox Chair Zero
---
The Best All-Purpose Foldable Backpacking Chair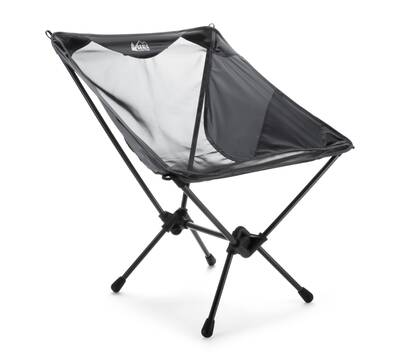 REI Flexlite Chair
The REI Flexlite Chair seems to have hit the sweet spot when it comes to a reliable, reasonably priced backpacking chair. While it's not the lightest option at 1 pound 12 ounces, it utilizes a well-made aluminum hubbed pole system and open mesh nylon ripstop back, which allows plenty of air and stability when sitting.
The chair most closely compares to the more expensive Helinox Chair Zero, but it weighs a little more and costs quite a bit less. The leg support is in the opposite direction, which creates a slightly elevated sitting experience compared to the Chair Zero. REI has also included a very hand mesh side pocket to store a flashlight, phone, or small book, which is a simple yet highly practical feature. With the weight, you're edging into territory that's not very practical for ultralight backpacking, but the packed size is quite manageable. If you want a solid backpacking chair without spending a lot, the REI Flexlite is a great option. REI also offers other versions, including the Flexlite Air Chair, which is lighter and more expensive.
See REI Flexlite Chair
---
The Best Backpacking Chair Air Pad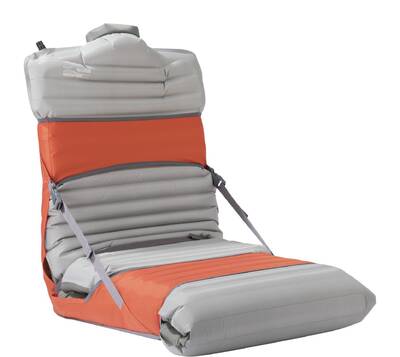 Therm-a-Rest Trekker Chair Kit
The Therm-a-Rest Trekker Chair Kit is different than every other backpacking "chair" on this list because it requires a sleeping pad to work. The Trekker Chair is essentially a highly durable chair back that you slip over your sleeping pad to create a very cushy seat. We're big fans of this method because it turns your pad into a chair, weighs a very small amount, and makes sure you'll use your pad for more than just sleep.
Most air pads are designed to be quite comfortable, so this option actually gives you a more comfortable chair than most on this list. Of course, the downsides are that you need a pad for it to work, you need the pad to fit the size of the chair, and you have a small chance of popping the pad, thereby losing your bed and your chair in one go. The Trekker Chair Kit uses a thick 75D material to thoroughly protect your pad, and the setup is quite simple. It works for non-Therm-a-Rest pads as long as they are the same width, although it works best with the Therm-a-Rest NeoAir XLite and XTherm (pictured above) models. Make sure to order the right size width as your pad.
To be fair, while we think the Therm-a-Rest Trekker Chair is the best of these around, Sea to Summit, Big Agnes, and Exped also make a very similar product, which specifically fit their respective pads. While we don't always recommend going with the same brand for multiple products, in this case, we do. You'll get a more precise fit and reduce the chance of popping. If you want an ultralight, multi-use backpacking chair, consider the Trekker Chair.
See Therm-a-Rest Trekker Chair
---
The Best Backpacking Chair for Sitting on the Ground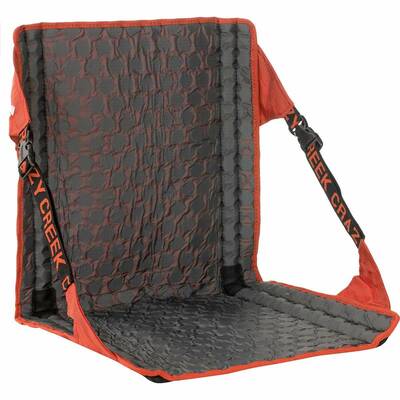 Crazy Creek Hex 2.0
The Crazy Creek Hex 2 is a slight upgrade to this timeless design, which you have no doubt seen at concerts, parks, campsites, and even on backpacking trips. The Crazy Creek chair is basically two sections of closed-cell foam covered with fabric that are connected via a cinch-able webbing — this creates a sit pad that supports your butt and back. While your legs can't bend at all, it provides more comfort than the similar Therm-a-Rest Z seat, and still packs up quite small.
The Hex 2 version of the Crazy Creek chair uses a thicker Denier fabric for increased protection and carbon fiber stays, which pretty much will not break. In essence, it's the nicest seat pad you can buy, and still weighs well under two pounds and packs up very small. This is a great backpacking chair for the weight concerned, and for those who don't care about having a more normal "chair" experience, but just want to lean back around a campfire comfortably. Crazy Creek does offer this in multiple versions — the Original, PowerLounger, and LongBack are popular — so get the model that fits your needs and size.
See Crazy Creek Hex 2.0
---
The Most Comfortable Backpacking Chair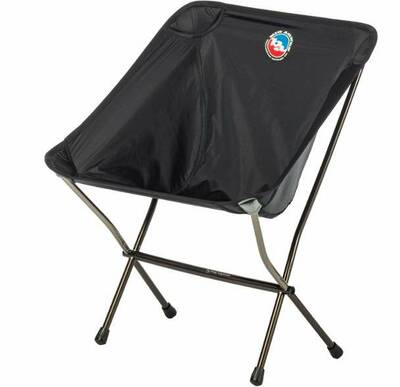 Big Agnes Skyline UL Chair
The Big Agnes Skyline UL Chair is a lightweight and sturdy backpacking chair that can hold up to 275 pounds. Despite its strength, the patented hubless design allows the Skyline UL to pack down relatively small while the prebent poles make for a more comfortable seat. Impressively stable for how light and compact it is, this chair is almost luxurious relative to other backpacking chairs.
What's more, the 70D Robic nylon is quite strong. You won't have to worry about tears and abrasion, at least not for a long while. Big Agnes has a solid reputation in the outdoor community, and many have argued that this is the best backpacking chair of them all when you consider price, weight, build quality, and comfort.
See Big Agnes Skyline UL Chair
---
The Best Backpacking Stool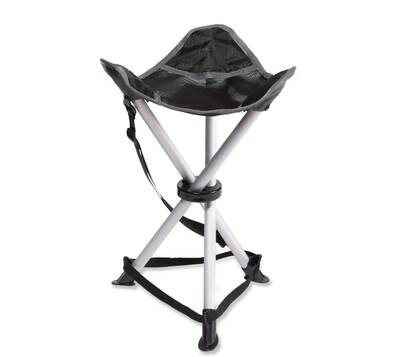 REI Trail Stool
The REI Trail Stool is a solid backpacking chair that provides great comfort at a very affordable price. It's the only stool on this list as we feel that REI has perfected a rather simple design, providing a basic seat for the weary backpacker or camper.
The tripod design provides great support, the 15-inch seat height is enough to really let your legs rest like a real chair, and the seat is made of durable material and has the right amount of sag. It's also lighter than most of the more complex backed chairs on this list and costs way less. If you're looking for an easily packable, low-weight seat and don't care about leaning back, the REI Trail Stool is the backpacking chair for you.
See REI Trail Stool
---
The Best of the Rest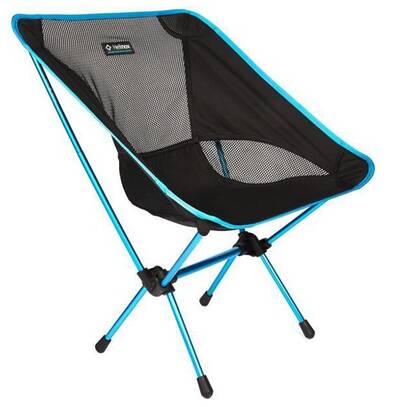 Helinox Chair One
The Helinox Chair One is the slightly bigger brother to the Chair Zero and shook up the backpacking chair industry when it came out. The Chair One helped to set the new standard of high-end backpacking chairs, which means an aluminum hubbed pole system, a removable mesh chair back that folds easily, and a decently low weight.
The Chair One is now outmatched by a few other chairs (on this list), but remains a fan favorite because of its incredibly comfortable mesh backing and the slightly higher seat height from the Chair Zero and the Flexlite. It's a tad wider and larger than the Zero, and costs less, too. If you don't mind the extra weight, save some money and increase your comfort with the Helinox Chair One.
See Helinox Chair One
---
Therm-a-Rest Z Seat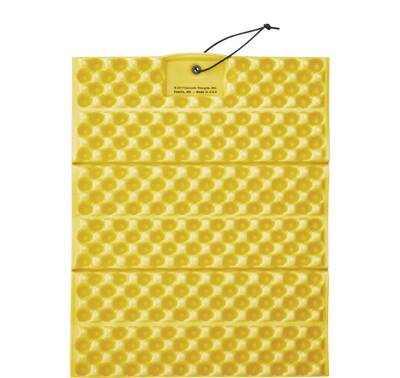 The Therm-a-Rest Z Seat is almost as much a classic sit pad as the very similar Z Lite Sol sleeping pad. Using the same technology, the Z Seat is simply a seat-sized closed-cell foam pad with egg-crate ridges to give your bum a bit of rest. It's not much support, it doesn't provide any real height, and it won't let your legs dangle like a real chair, but it's comfier than sitting on the ground and makes sharp rocks and awkward logs a kinder resting place.
The beauty of the Z Seat is that it weighs just two ounces, folds up like an accordion, can be tied to the outside of your pack or stuffed inside, and will last a very, very long time. It also costs a mere $15. The Therm-a-Rest Z Seat is one of the best ultralight chair choices on the market, as it can also provide a bit more cushion under your head during sleep. If you don't want a full chair, but need a simple pad, this is a good place to start.
See Therm-a-Rest Z Seat
---
Backpacking Chair Features
Backpacking Chairs vs. Camping Chairs
The first distinction to make when looking at any kind of outdoor chair is whether it's a backpacking chair, a camping chair, or both.
We define backpacking chairs as small, packable chairs that support your back (and not always your legs) in a lightweight form factor.
The above list is all about backpacking chairs, and each of them focuses on the above factors. You need the chair to fit in your backpack, be light enough to be worth carrying on most trips, and provide solid comfort and support after a long day of hiking.
We define camping chairs as decent-sized, comfortable chairs that support your back and legs in a form factor that fits in the car (not necessarily your backpack).
While we have a separate guide for Camping Chairs, we do feel that some of the above chairs work well for camping, despite their small size. Specifically the foldable chairs, like the Helinox Chair Zero and Chair One, the REI FlexLite, and the Big Agnes Skyline UL.
These are excellent hybrid chairs because they are light enough for backpacking but would also take up almost no room in your car and still allow you to sit raised above (or at the line of) a campfire ring.
Typically backpacking chairs lack cup holders (for that cold beer or scalding cup of coffee), any leaning or rocking capability, and head support. These are all traits of a camping chair!
Pro Tip: When choosing, figure out which activity you really do most. You might love the idea of a super-light backpacking chair, but how often do you really go into the backcountry? Would you be comfortable on a larger camping chair that fits your needs 90% of the time? When backpacking you can almost always find a rock or log to sit on if you really need to rest.
Type of Backpacking Chair
With the above in mind, we have split the backpacking chairs on this list into different types. These explain what kind of support you're going to get.
Foldable: Foldable chairs come with poles (usually a pole hub) that snap together during set up and fold down when packing. They have two pieces, the poles and the back fabric, which attach. They lift you roughly a foot off the ground and often weigh the most out of any category.
Air Pad: Air pads turn your sleeping pad into a backpacking chair! They are pieces of durable cloth that stretch to fit around an inflated 20- or 25-inch sleeping pad, often doubling the pad over so you get between 2-5" of cushy support. They are very lightweight, easy to set up, and turn your pad into a dual-purpose piece of gear. But they require you to have a pad and one that fits your air pad chair.
Ground: Ground pads are any backpacking chair that provides support on the ground, but not for your legs. This is technically true of the air pads as well, but ground pads are self-contained. They are typically lightweight, easy to hang off your pack, and sometimes give back support. If you just want a comfy place to sit on the ground, and a no-fuss backpacking chair with almost zero setup time, look at ground pads.
Stool: Stools are backpacking chairs that provide a decent amount of height of the ground, but don't have a back. This means you can rest from a long day of hiking, but not lean back. Stools range in functionality, but we like stools that are cheap, fairly lightweight, and uncomplicated to setup.
Packed Size
When it comes to backpacking chairs, packed size is probably the most important thing to look at — after all, you have to put this in your backpack, right next to your tent, stove setup, sleeping bag, and clothes.
All the backpacking chairs on this list have a fairly small packed size, with the largest being the Trail Stool, mostly due to its legs not collapsing, so it's quite long. The other foldable chairs pack up a bit larger than the size of a 32 oz Nalgene, which is pretty amazing.
The ground chairs don't pack in a cylinder shape but are light and flat, so they're easy to tie to the outside of your backpack or to put in first right against the inside back of the backpack.
Pro Tip: Take your fully packed backpack to an outdoor retailer and see if there is room for the chair you're looking at. You don't want to purchase a backpacking chair and realize as you pack that it just won't fit into your setup.
Setup Size
After you've made sure the packed chair can fit in your pack, you'll want to look at the setup size. This refers to just how big the chair is when it's set up, and is primarily about your comfort.
Some of us are tall, some are short. Some have a wider footprint, others a thin one. Because backpacking chairs focus so much on weight and size, they are often narrower than your typical chair.
You want to make sure that the chair supports your weight, is wide enough for you to comfortably sit in, and is designed in a way that your legs are and back are comfortable.
That said, these are not giant ergonomic chairs and you are simply not going to be comfortable sitting for 3 straight hours in them. That's not the point. The point, as far as we're concerned, is to be decently comfortable after a day of hiking, around a campfire, with occasional adjustments of your position and occasionally standing.
Pro Tip: Look at the setup size in store, and sit in the chair! This is the best way to determine if it works for you.
How to Buy a Backpacking Chair
To make sure you get the right backpacking chair, we go over the different considerations to make when you've decided to purchase. See below.
Setup In-Store
As many of our tips above intimate, this is an easy item to see in most physical outdoor retailers, like REI. There should be chairs available to set up, and you can always ask an employee if a particular model is fine to take out of the stuff sack.
If they don't have the exact model you're eyeing, we recommend looking at a similar backpacking chair type — if you want the Helinox Chair Zero, but REI only has the FlexLite, still set up the FlexLite because they are pretty similar.
Likewise, with stools and ground pads you can get a sense if that style is going to work for you. Air pad chairs are harder to set up in-store, though you can probably manage it by asking nicely.
Mostly this is to determine the best type of chair for you.
Online vs. Real Stores
After the above test, there is no real difference between online and real store purchases for backpacking chairs. Online will have more options, including colors if you care about that.
Used Backpacking Chairs vs New Backpacking Chairs
Some products, like hiking boots, are best bought new. Backpacking chairs? Doesn't really matter.
If it's a foldable backpacking chair make sure the poles are all accounted for and still connect easily, as they can be hard to replace. Beyond that, this is a durable product category that stays relatively clean even after lots of use.
Smaller, Lighter, and Faster!
The backpacking chair category of products has made big advancements in the last decade, specifically in the foldable chair realm. Helinox takes much of the credit, deciding to use tent poles to create a lightweight chair that lifts you off the ground.
As the years go on, these chairs are going to get lighter and more packable, while retaining or gaining on comfort.
---
Backpackers.com Affiliate Policy: This guide contains affiliate links, which help fund our website. When you click on the links to purchase the gear we get a commission, and this goes a long way to creating guides, gear reviews, and other excellent content.