Summertime and the months surrounding it are perfect for hitting the beach, town, trail, or lounging around camp. And while shoes are cool, we've found that solid hiking sandals can give you the protection and traction you need without the weight, fabric, and suffocating heat of your standard shoe.
The hiking sandal category of gear has become go-to footwear in recent years, with entire thru-hikes taking place in a pair (or four). Strap into some interesting webbing, check your activity level, and read on to see the best hiking sandals.
We cover hiking sandals specifically in this article. If you're looking for Flip Flops, check out our Best Flip Flops in-depth guide and review. And if you want to make the switch to hiking boots, check out our Best Hiking Boots. in-depth guide and review.
Hiking Sandals Comparison Table
The Best Hiking Sandals for Comfort
Chaco Z/1 Classic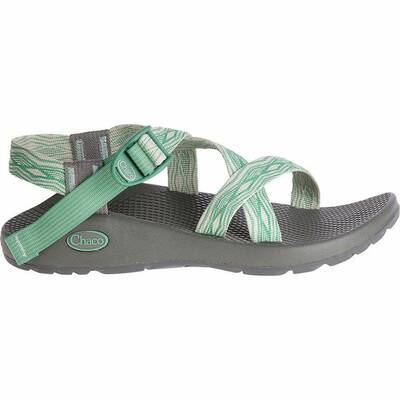 The Chaco Z/1 Classic sandal is named "Classic" for a reason. This is the original model of Chaco — the one built for river crossings that's now used by all walks of life. This Chaco model is known for its extreme comfort, with the trademarked LUVSEAT footbed, which is certified by podiatrists. The webbing is minimal but strong, and is adjusted in the midsole of the shoe to keep the lines clean. Chaco started making its own soles in 2017, moving away from Vibram, and the "new" Classic utilizes their ChacoGrip outsole. This sandal is extremely beefy, rugged, heavy, and comfy.
Chaco Z1 Classic Star Rating
Comfort

Durability

Soles

Straps and Webbing
Summary
The Chaco Z1 Classic is, as the name implies, a classic hiking sandal. Redesigned recently with a new ChacoGrip sole, the Z1 Classic is known for incredible comfort, grip, and durability. Take these sandals on the trail, across rivers, and around town.
Read Full Review
See Women's Chaco Z/1 Classic
See Men's Chaco Z/1 Classic
---
The Best Hiking Sandals for Minimal Backpackers
Bedrock Sandals Cairn 3D Adventure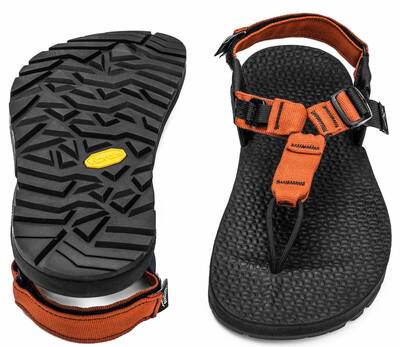 The Bedrock Sandals Cairn 3D Adventure are some of the hottest new trekking sandals around. Bedrock Sandals is fairly new, and makes minimalist sandals designed for backpacking, hiking, and casual use. The Cairn 3D Adventure uses a sculpted footbed to give a tiny bit of arch support and grip (still very minimal though), and an excellent strapping system with a toe-post to lock in the perfect fit. The soles are beefy, grippy, and will last. The color options and design are a nice touch and make this sandal (in our opinion) suitable for the trail or town.
Bedrock Sandals Cairn 3D PRO Star Rating
Comfort

Durability

Soles

Straps and Webbing
Summary
The Bedrock Sandals Cairn are an outstanding minimal hiking sandal, and the Cairn 3D PRO takes the original model to another level. With a slightly molded footbed for more comfort and grip, the Cairn PRO's use a Vibram MegaGrip sole for maximum wet traction, have a 3-way adjustable strap system, and use a thick sole and lugs to help you tackle any terrain. Hike and backpack capable.
Read Full Review
See the Women's Bedrock Sandals Cairn 3D Adventure Sandals
See the Men's Bedrock Sandals Cairn 3D Adventure Sandals
---
The Best Hiking Sandals for Casual Use
KEEN Uneek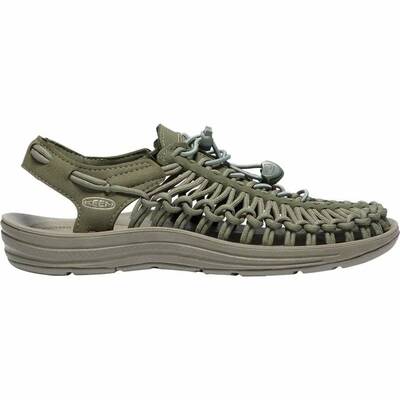 The Keen Uneek is a strange, surprisingly comfy sandal with a very distinctive look. Keen uses a zig-zag of polyester braided cord and microfiber material for the entire upper, which allows for the easy breeze of a sandal and and protection of a shoe. The sandal does decently in water and the upper dries pretty fast, though dunking completely is not advised. The footbed is comfortable, and the PU midsole gives firm support where many other sandals are softer. The outsole is not meant for real hiking, and we find this a useful shoe for warm months. Wear around town, camp, on the beach, or go for a light hike.
Keen UNEEK Star Rating
Comfort

Durability

Soles

Straps and Webbing
Summary
The KEEN Uneek sandals are unique alright. The hiking sandals use a thick, in-house sole that's supportive and has basic traction and a unique cord-rope mesh top which helps to hold in your feet, is surprisingly breezy and comfy, and holds up well over time. These sandals are a bit of a fashion statement, and work well on casual walks just about anywhere.
Read Full Review
See Women's KEEN Uneek
See Men's KEEN Uneek
---
The Best Open Toe Hiking Sandals for Water Sports
Teva Hurricane XLT 2
The Teva Hurricane XLT 2 is an updated classic from the original XLT. The sandal is known for a comfortable, complete strap system that hugs your heel and ankle. The heel strap has been updated for comfort, and the sole is now grippier than the previous version. The footbed is soft, and there's no toe-post, for those that don't like that! Overall a great sandal for hiking and around camp, but we wouldn't backpack in them. See the full Teva Hurricane XLT 2 review.
Teva Hurricane XLT 2 Star Rating
Comfort

Durability

Soles

Straps and Webbing
Summary
The Teva Hurricane XLT are open-toe, 4-strap hiking sandals that can take on trails or water with ease. They don't have a toe-post, have been updated for increased grip and a softer EVA midsole. If you want a pair of do-it-all hiking sandals this is a good place to start.
Read Full Review
See Women's Teva Hurricane XLT 2
See Men's Teva Hurricane XLT 2
---
The Best Five Fingers Hiking Sandals
Vibram KSO Five Fingers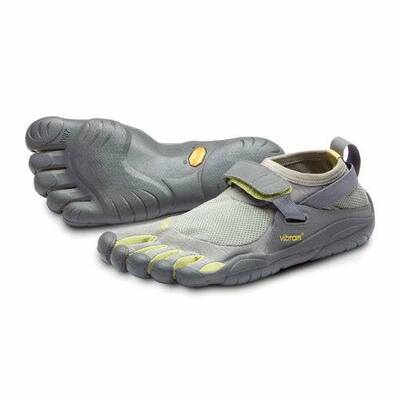 The Vibram KSO Five Fingers are a barefoot shoot that helped to create a movement. These shoe/sandals are incredibly unique, and have individual toes for you to slip into. It's like wearing nothing, but with traction, protection, and quick-drying properties. There are a ton of Five Finger models, but the KSO is the most versatile, providing great support, stability, and grip for an incredibly lightweight sandal (4 ounces per sandal!) If you want the barefoot experience, want to keep your toes free, and love keeping dust and grime out of your feet, the Vibram KSO is the place to start.
Vibram KSO Five Fingers Star Rating
Comfort

Durability

Soles

Straps and Webbing
Summary
The Vibram KSO Five Fingers are the classic, time-tested barefoot finger-style shoes. They are not like other sandals, or other footwear. There is a place for each of your toes, and they mimic a nearly-barefoot experience. This is a unique and popular type of hiking sandal, and if you're interested in barefoot running or hiking they are worth considering.
Read Full Review
See Women's Vibram KSO Five Fingers
See Men's Vibram KSO Five Fingers
---
The Best Lightweight River Hiking Sandals
KEEN Clearwater CNX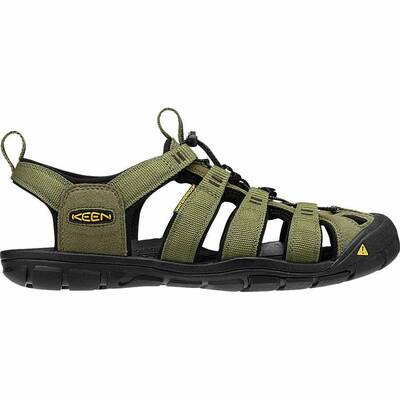 The Keen Clearwater CNX is a much lighter version of the Newport H2 sandal, which made Keen the massive shoe brand it is today. The Clearwater is a rugged closed-toe sandal made for hiking in wet terrain. It has serious toe protection and the polyester webbing is durable. The simple lace closure allows for a comfy or tight fit, and the shoe is made of PFC-free materials.
See Women's Keen Clearwater CNX
See Men's Keen Clearwater CNX
---
The Best Day Hiking Sandals
Chaco Z Cloud 2
The Chaco Z Cloud sandal is another in Chaco's distinct line of sandals, and pretty similar to the Classic. However, it's lighter, and uses a dual-density foam that offers more soft comfort underfoot. This makes the sandal better for more casual hikes, rather than extended treks. And, because it weighs less, it's easier to lug around as a normal sandal. We've highlighted for this sandal, which includes a toe loop for more forefoot control, but all both the Classic and Cloud have this as an option.
See Women's Chaco Z Cloud 2
See Men's Chaco Z Cloud 2
---
The Best Barefoot Hiking Sandals
LUNA Sandals Mono 2.0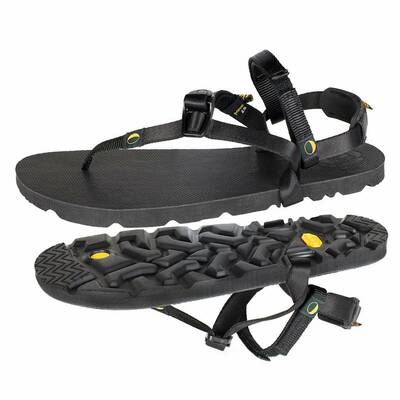 The LUNA Sandals Mono 2.0 sandals are one of the first true barefoot sandals designed in the huarache style, specifically for long-distance trail running. The brand was born (ironically) from the book Born to Run, and now makes excellent sandals that work for ultralight backpacking, trail running, and walking around town. The Mono 2.0 is a slim, minimal, grippy sandal designed to go far and let your feet be as natural as possible. The adjustments are a bit hard to get the hang of, but once understood make for a highly versatile sandal.
See LUNA Sandals Mono 2.0
---
The Best Heavy Duty Hiking Sandals
KEEN Newport H2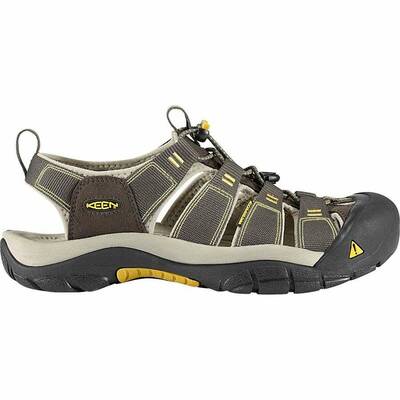 The KEEN Newport H2 hiking sandal is the flagship model for KEEN, and what launched the brand into the mainstream. The sandal is heavy, but incredibly solid. It's known for the large and protective toe rand, its breathability, and the quality build, including a traction-focused outsole. Great for the campsite, walking around town, or any casual water-based activities. Very similar to the Keen Clearwater CNX, but heavier overall.
See Women's Keen Newport H2
See Men's Keen Newport H2
---
The Best Recovery Sandal
HOKA ORA Recovery Slides

Sometimes we can all do with a bit of recovery and relaxation. The HOKA ORA Recovery Slides are what you want to put on your feet after your take off your hiking boots. They're best used as camp shoes, at the beach, or on leisurely walks around your home. Give your feet the TLC they need so that they're ready to hike hard again on your next adventure.
See Women's HOKA ORA Slides
See Men's HOKA ORA Slides
---
Hiking Sandal Features
Types of Hiking Sandals
What we mean by "types" of hiking sandals is how they perform for your general lifestyle, and specifically what kind of toe protection they have. We find this to be the defining factor in why a certain sandal works for some folks, and not for others. As you can see above, we've broken this down into four (and technically it's five) general categories.
1. Open-Toe Hiking Sandals
This type of sandal is best for hot climates, sweaty feet, and those who want to get in and out of water frequently. Sand and dirt will not stay trapped in the footbed and the lack of a real upper makes drying times very quick (at least for our "best" sandals, not so much for others). These sandals also convert to casual use easily because they're often easy to slip on.
The main downside is toe and foot protection. With an open-toe hiking sandal you have to be wary of what sharp objects you may encounter, and your feet will get seriously dirty, especially on dusty trails. The upper is also usually just straps, rather than solid material, which means your feet are also subject to whatever natures throws at you.
2. Closed-Toe Hiking Sandals
The more protective cousin to the Open-Toe hiking sandal, the Closed-Toe models we list above are great for hiking, have excellent toe protection, and often have a more thorough upper that holds your foot while also protecting it. They are typically better for those who would prefer a hiking shoe, but need the open vents for a seriously hot climate, or seriously sweaty feet. This type of sandal also tends to be better with socks, and can convert to spring and fall shoes, if you dig that look.
The downsides of the Closed-Toe hiking sandal are it's just not as easy of an on-off experience of an Open-Toe, and it's often a good amount heavier. Solid toe protection often means a more rugged upper, and that weight adds up. Finally, they're a bit dorky. The KEEN models, for example, are often referred to as the "dad shoe". Style is 100% subjective, so this is only a downside if it's a downside for you.
3. Closed-Toe Casual Sandals
The difference between "Casual" and "Hiking" should be fairly obvious. We found that while most of the Closed-Toe sandals above excelled at hiking (not necessarily backpacking though), there were some we'd be hard-pressed to take on a real hike. This will depend on the person, the type of hike, and how strong their feet are. With that said, we found that the Closed-Toe casual shoes excelled in comfort, and were the best covered method of having a casual slip-on that could perform some hiking activity if necessary.
Often, we'd wear this type of sandal around the house, town, and in a camping site. But not up to a peak.
4. Finger Sandals
This category is a bit unfair, because it's really just Vibram Five Finger sandals/shoes that fit here, but they are prevalent enough that it's worth noting. The finger shoe is like a glove for your feet — each toe has its own slot. This is really a shoe/sandal hybrid, because they are not open in any way. We have included them in the hiking sandals category because outdoor folks often look at these as an option when picking hiking sandals, mostly because they are lightweight, barefoot in their approach, and quite minimal.
If you want full foot protection but need a barefoot feel, check out finger sandals. If you want to run as if you're barefoot, check out the finger sandals. If you want to look like you're from the future, check out finger sandals.
5. Open-Toe Casual (better known as Flip Flops!)
We'll have a complete guide to the Best Flip Flops, so we don't go into this category here. Flip Flops are a way of life, and arguably the most comfortable of any sandal for casual use. The above list does not include this category!
Best Uses for a Hiking Sandal
We touched on uses above, but we want to be clear that a hiking sandal, depending on the model, is quite diverse. With certain sandals in our list you can backpack deep into the wilderness, go out for a long night of bar crawling, or paddle dozens of mile downriver — and your feet will live to tell the tale. Here are the best uses for a hiking sandal:
Water sports, specifically rafting: Teva and Chaco reign supreme in the rafting world, and are the reason hiking sandals exist. Traction in wet environments is incredibly important, and you need your shoes to dry quickly.
Hiking: It might sound obvious, but most of the sandals above excel at hiking. In environments that are warm, relatively bug-free, and don't have dense underbrush, sandals are probably your best choice of footwear.
Travel: We love lightweight, open-toe sandals for travel. They are typically light, fold up easily, or carabiner to a pack in an instant. Throw them on when the weather is right, or use them occasionally for a change-up in footwear. Wearing one pair of shoes for an entire trip is not ideal.
Urban: It really depends on your city, but hiking sandals are an excellent way to explore secret stairs, paved streets, or in-city peaks.
Backpacking: Only some models excel at backpacking, and even for those you need strong feet. But once you've made the switch, it's like your feet are free! This takes practice, and, of course, depends on climate.
Camping: Hiking sandals are a great camping shoe. While flip flops may be technically better (and what we recommend as a camp shoe when backpacking), with car camping you don't have to worry about weight. Bring your hiking sandals for day time, water activities, and that inevitable day hike. Cozy up in socks at night, and throw on your real shoes if you have to.
A Hiking Sandal's Soul is its Sole
The sole is the soul of any hiking sandal. The main difference between a flip flop and a hiking sandal is the tread and grip-ablity of the sole.
Vibram is still the most common sole found on most hiking footwear, whether it's sandals, hiking shoes, or hiking boots. Many of the hiking sandals on this list have a Vibram sole, and we find they are excellent for traction, in and out of water. That said, Keen, Chaco (recently), and Teva are three of the largest hiking sandal companies, and all use their own, in-house sole. They are all excellent.
A key trait to look for in a hiking sandal's sole is the lug pattern, which will determine how well it sheds dirt and mud, and how well it will grip on slick, rocky surfaces.
You'll also want to look at the flexibility of the sole. Some hiking sandals are firm but totally rigid — if that's your style, Chaco and KEEN are best bets. Other hiking sandals have a very flexible sole, which moves with your foot and offers basic support — like LUNA Sandals and Bedrock Sandals.
Straps, Webbing, and the Upper
While the sole helps with hiking and traction, the straps, webbing, and uppers of any hiking sandal are typically associated with comfort. This element of the sandal is often why people gravitate to the one brand or another. Some folks cannot deal with an exposed sandal, and therefore gravitate towards KEEN, Merrell, or ECCO.
Others refused to have a sandal that is almost as clunky and heavy as a shoe, and need their feet open to the air — those typically head straight for Chaco or Teva. These are the largest hiking sandal brands, and while they have excellent models, we've found that some of the smaller, more backpacking-oriented brands, like Bedrock Sandals and LUNA Sandals, make excellent all-around sandals that will work for any activity.
There are a few important things to consider when it comes to straps, webbing, and the upper:
Toe Hold
People are often very specific about how they want their toes to be held in a hiking sandal. Some must have a thong-style hold, which is most like flip flops, and called a "toe-post". Of the sandals on this list, Bedrock Sandals and LUNA Sandals are the best for this, and will retain that flip flop toe feel while letting you trek deep into the woods.
Many are fine to let their forefoot be without a specific strap — this means there's nothing stopping or holding your toes. Chaco, Teva, and to a degree ECCO have many sandals like this. Yet Chaco has models with the "2" classification (like Z/2 Classic), that include a small strap for your toe. This gives support like a toe-post, but isn't actually the same mechanism.
Finally, the closed-toe shoes provide a more traditional toe hold, one that you'll find in shoes and boots. This is perhaps the most natural feeling (for some), but also assures your feet will not breathe as well as the other kinds of toe holds.
Pro Tip: Go to a store that carries all types of models, and try each one. What feels the best in terms of toe hold and grip? Do your toes like a toe-post, very little support, or full coverage?
Material
The hiking sandals on this list use a variety of materials for the straps, webbing, and upper — everything from nylon and polyester to leather. While all of these work, we think it's best to consider on-skin comfort and use-case.
Do you like fewer materials that are close to the skin? Go with an open-toe hiking sandal, like Chaco, Bedrock Sandals, LUNA Sandals, or Teva.
Do you want thicker materials, and maybe even leather, covering the majority of your foot? Go with KEEN, ECCO, or Oboz.
Keep in mind that if you plan to get your feet (and sandals) wet often, having thinner, quick-drying materials like polyester is best. Whereas if you want to wear your sandals to work, or out at a bar, leather and some beefiness adds a nice touch.
One sandal, aptly named the KEEN Uneek (pictured above), has a surprising upper that's composed of polyester braided cord and microfiber. It feels like a slipper or light shoe, and hits an interesting mid-point of all the above attributes, but doesn't excel at any of them.
How to Buy Hiking Sandals
Hiking sandals are not incredibly complex to buy, unlike hiking boots, which take some serious understanding. In general, if the footbed fits your feet, your toes aren't hanging off the edge or totally engulfed, and the type of midsole feels good, you should be good to go. Take the features above into consideration, and really think about your activity — what do you want to use this sandal for?
If the hiking sandal has a system to secure it to your foot, make sure that's comfortable, easy to use, and feels good. On some models, or in some brands, a pressure point may be uncomfortable due to your foot shape or size, and the straps will rub in the wrong way. Look out for this, but otherwise it's pretty easy to quickly tell if a sandal feels good or not.
Online Retailers vs Real Stores
For footwear we always recommend trying on in store. And for sandals, you should probably do that too. That said, hiking sandals are probably the piece of footwear you have to be least concerned with. If you know a brand, or even a model, fits you well, it's fine to purchase online. Sizing is important, because not all sandals come in half sizes, and you may have to decide to size up or down.
Used Hiking Sandals vs New Hiking Sandals
Some outdoor items are fine used — backpacks, tents, headlamps, to name a few. However, footwear is not the best category for used goods. Unless they are in pristine condition, we don't recommend buying used footwear. That's even truer for sandals, because whoever wore it before you probably sweat directly into the shoe, which, despite frequent washes, still constitutes a very "used" feeling.
Try to buy new, or pristine used, when it comes to hiking sandals.
Hiking Sandals on the Rise
Hiking sandals were invented as a water-sports solution to footwear — people needed traction in wet environments, and Teva and Chaco were born. That was 30+ years ago — these days hiking sandals are an everyday footwear category, especially for summer and on college campuses. KEEN is one of the most popular outdoor shoe brands in the world, and that's largely due to its flagship model, the Newport H2, an ultimate casual, hiking, BBQ, camp, beach, around town, and on-campus sandal.
What we've seen in the last decade is the rise of backpacking sandals — open-toe traction that's so breezy and barefoot yet durable that minimalists and ultra-runners are taking them on long treks. LUNA Sandals was the first major breakthrough in this field, and Bedrock Sandals are a newer company that strives for a very similar thing. A hiking sandal that can backpack deep into the wild and serve as your backyard BBQ footwear is hard to beat, and they last a very long time.
We love hiking sandals, and feel everyone should have a pair!
---
Backpackers.com Affiliate Policy: This guide contains affiliate links, which help fund our website. When you click on the links to purchase the gear we get a commission, and this goes a long way to creating guides, gear reviews, and other excellent content.